Raspberry Pi in a form of so called "compute" module provides all good features of this well-known microcomputer and lets you choose which peripherals to use.
This is an archive article published 01/30/2015. Some information may no longer be up to date and in line with the current state. Please contact us in case of interest.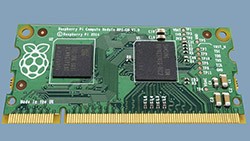 Idea of the
Raspberry (RPI) compute module
is in a fact, that there are applications, where easy applicability of this microcomputer might be advantageous, but its dimensions (including connectors in original version) don´t allow it to you. For these cases, the new Raspberry compute module is suitable, what´s literally only the "computing module" itself, in a substantially more flexible form factor. Raspberry Compute gives allows designer to freely use only required peripherals, at minimal space requirements (dimensions only 67.6x30mm). The size comparison is illustrated in attached picture. The module can be easily connected to a target application through a usual DDR2 SODIMM connector, for example Attend
121A-52A00
.
The Compute module contains the same "guts" as Raspberry Pi (BCM2835 processor and 512MB RAM) as well as 4GB eMMC Flash memory (equivalent to an SD card in RPI). With this module. it´s possible to deploy full functionality of the BCM2835 chip and even more GPIO pins and interfaces than in a standard version. Detailed information will provide you the RPI Compute module datasheet. Upon order, there´s available the development kit RPI COMPUTE DEV KIT (containing the module, IO board, cables for camera and display, 5V power source and a USB cable).
Advantages/ Features:
Raspberry microcomputer in a form of a miniature module

flexible usage

intended to be embedded to a target device

512 MB RAM + 4GB eMMC Flash

connection through a DDR2 SODIMM connector
Do not miss these articles
Do you like our articles? Do not miss any of them! You do not have to worry about anything, we will arrange delivery to you.