Digital storage oscilloscopes HAMEG HMO win many awards because of many reasons, which can be summarized into one sentence - an excellent price / performance ratio.
This is an archive article published 11/23/2012. Some information may no longer be up to date and in line with the current state. Please contact us in case of interest.
Or more in detail - excellent features, user-friendly control and rich equipment with various functions enabling a fast "overview" but even a detailed analysis of measured signals, including math calculations. Inspite of advanced functions Hameg HMO series oscilloscopes maintain a simple intuitive control, thus a user can focus more on the measurement itself, than on a setting of the instrument.

In general, oscilloscopes provide invaluable information and they can´t be replaced by any other measuring instruments. Visual representation of a signal enables to see a real shape of a signal and for example to check, whether we have, in a given place of a device, a signal we expect.
Main properties of of Hameg HMO oscilloscopes we already introduced to you in recent articles and you can also find them in documents HMO Innovations or HMO compact class.
Among features welcomed by perhaps every user belongs a QuickView function which automatically displays the most important parameters (positive and negative peak voltages, rise and fall times, average value) directly in the signal display. Another useful function "Set To Trace" automatically adjoins the cursors to the respective signals and enables to comfortably measure duty cycle of pulse signals.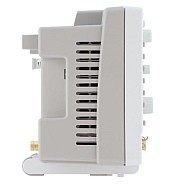 6,5" LCD screen (640x480) is able to display many details. In case, that even this resolution is not sufficient, it is only necessary to use the "Virtual Screen" function, when the HMO offers a virtual resolution of 1200x640 and 20 divisions in the Y axis. All HMO series instruments feature a metal chassis and housings, that´s why they´re mechanically robust and well protected against disturbances (EMI). Hameg HMO oscilloscopes can be also equipped with
options and accessories
and they can be upgraded for decoding of UART, SPI, I2C and other buses.
More details can be found in the HMO user manual, comparison of particular types can be found in the HMO overview. Oscilloscopes and other Hameg instruments will be introduced to you in the Hameg Products Overview.

Selected types are on stock, upon request we´re able to provide you with any Hameg DSO (member of Rohde&Schwarz). As an authorized distributor of Rohde&Schwarz we´re also able to provide you with any instrument from the production portfolio of this world-class producer. In case of interest, please contact us at info@soselectronic.com.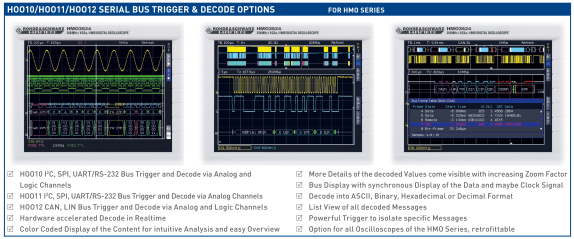 Videos
Advantages / Features:
2 GSa/s Real Time

Low Noise Flash A/D Converter (Reference Class)

2 MPts Memory, Memory zoom up to 50,000:1

MSO (Mixed Signal Opt. HO3508) with 8 Logic Channels

Serial Bus Trigger and Hardware accelerated Decode, I2C, SPI, UART/RS-232 (Opt. HOO10, HOO11)

8 User definable Markers for easy Navigation

Pass/Fail Test based on Masks

Vertical Sensitivity 1 mV/div.

Offset Control ±0.2...±20 V (HMO20xx, HMO15xx)

12 div. x-Axis Display Range, 20 div. y-Axis Display Range (VirtualScreen)

Trigger Modes: Slope, Video, Pulsewidth, Logic, Delayed, Event

Component Tester, 6 Digit Counter, Automeasurement, Formula Editor, Ratiocursor, FFT for Spectral Analysis

Crisp 16.5 cm (6.5") TFT VGA Display, DVI Output

Metal chassis and housing

Lowest Noise Fan

3 x USB for Mass Storage, Printer and Remote Control optional IEEE-488 (GPIB) or Ethernet/USB

Made in Germany
Do not miss these articles
Do you like our articles? Do not miss any of them! You do not have to worry about anything, we will arrange delivery to you.