A modular system of laboratory devices Hameg 8000 series is an ideal system for testing workplaces and school laboratories. At the same time it enables a very effective usage of space.
This is an archive article published 10/30/2012. Some information may no longer be up to date and in line with the current state. Please contact us in case of interest.
To have all we need on a table and to maintain enough space for a work - it is a stable challenge at a work with electronics. We may say, that for example a generator won´t be on my table today. But as it uses to be, after a while we´ll find we need just that instrument, which is missing on a table. Sometimes a solution is to stock them at each other, but we usually face the problem with a different size of instruments, or eventually also an instability of such a "set". All this is solved by a Hameg 8000 series modular system.

The system consists of a HM8001-2, main unit, serving as a power supply and at the same time it is a holder - frame for any 2 instruments from the 8000 series (instruments don´t have their own power supply - for their operation they need to be inserted into the HM8001-2 basic module). Up to 5 such mainframes can be stocked at each other, what means up to 10 instruments. That brings a big saving of space and especially a comprendious and safe work. At the same time, it enables a big variability - for example usually a one mainframe + 2 instruments (according to an actual need of a given lesson) are usually sufficient for students in school.
Available modules:
HM8012
-
4¾-Digit Programmable Multimeter
(max value 49999) with 0.05% basic accuracy, max. resolution: 10μV, 0.01dBm, 10nA, 10mΩ, 0.1°C, offset function and a relative value measurement, including an RS232 interface and software
HM8018
-
25kHz LCR-Meter
, measures L, C, R, Θ, Q/D, |Z|, 0.2% basic accuracy, 5 measuring frequencies (100Hz, 120Hz, 1kHz, 10kHz, 25kHz), max resolution: 0.001Ω, 0.001pF, 0.01μH, 2- and 4-wire measurement, parallel and serial mode
HM8021-4
-
1.6 GHz Universal Counter
, measurement range 0Hz…1.6GHz, 10MHz time base with 1ppm stability, 2 inputs - 1MΩ/ 50Ω
HM8030-6
-
10 MHz Function Generator
, frequency range 50mHz…10MHz, output voltage up to 10Vpp (do 50Ω), waveforms: sine wave, triangle, square wave, pulse, DC, distortion <0.5% up to 1MHz, rise and fall time 15ns typically, internal and external sweep, FM (with option HO801), surge- and short-circuit-proof (ideal for testing and educational conditions)
HM8040-3
-
Tripple Power Supply Unit
2x 0–20V/0.5A - 1x 5V/1A, 3-digit switchable displays (resolution 0.1V/1mA) , Pushbutton for activating/deactivating all outputs, adjustable current limiting and electronic fuse, low residual ripple and low noise
HM800
-
Blank Module
intended for customized instrument construction, inner guide for PCB mounting in 4 various levels, plastic front panel for easy mechanical processing, power is supplied by the HM8001-2 mainframe
As can be seen from this description, those are the quality instruments with very decent specification and with an excellent price/ performance ratio. Excellent properties are mainly proven in praxis, in a form of several 100 000 units sold all over the world. Detailed information will provide you datasheets at particular modules, series 8000 overview and the overview of options. In case of interest in any Hameg or Rohde&Schwarz instrument, please contact us at info@soselectronic.com.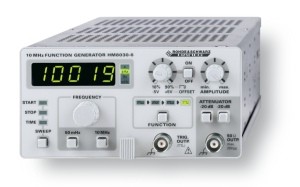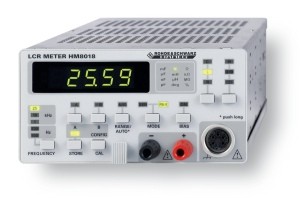 Advantages / Features:
modular instrumental system saving space on a worktable

high quality of instruments (accuracy, ranges, usage)

high variability, ideal for schools and measuring/ servicing workplaces

possibility of up to 10 instruments at one place

5 various instruments (multimeter, LCR meter, counter, generator, power supply)

blank module also available

a lot of optional accessories available
Do not miss these articles
Do you like our articles? Do not miss any of them! You do not have to worry about anything, we will arrange delivery to you.