With thermal fuses you´ll make a big step towards a higher safety of your device.
This is an archive article published 03/25/2015. Some information may no longer be up to date and in line with the current state. Please contact us in case of interest.
It´s surely not necessary to remind that any device can fail. Failure of a component, overload of a component (underestimated sizing), external influence and many other reasons are daily causing failures of devices. If the result of a malfunction is only an intermediate shutdown, it´s let´s say a better case. But if a device malfunction could cause further damage or even fire, it´s surely worth to make everything possible to prevent it.
A typical component used as a complementary - independent protection from overheating is a thermal fuse. It is a cheap but very useful component, which opens (disconnects) a circuit after exceeding certain temperature. It is a "one shot" component, i.e. after its activation it remains open and the fused circuit is disconnected (the fuse must be exchanged). It´s suitable to choose such fusing temperature of the fuse, as we consider to be really faulty, which otherwise can´t occur in an ordinary operation. Production processes enable to produce thermal fuses in a wide range of temperatures and so fuses Microtemp from company Thermodisc, which we keep in stock, are available in a range of 72-257°C (opening temperature). It´s a really wide range enabling to use a fuse for example for fusing of other component (for example a thermal fuse thermally joined with a transistor heatsink) but also for guarding an air temperature inside a device. These fuses operate on a principle of melting a small plastic pellet inside a fuse, what will cause release of a spring and a consequent disconnection of contacts.
A substantial advantage of thermal fuses Thermodisc is a maximum current up to 10-25A/250VAC depending on a type. On stock we keep the G4 series with a max. current of 10A/250VAC. Small dimensions enable to use a component similarly like any ordinary component. It´s only necessary to be careful at assembling (overheating) especially at low-temperature types.
Details regarding a correct assembly as well as an overview and tips for a correct use of thermal fuses can be find in the Thermodisc application guide. Teplotné poistky sú dostupné aj v iných púzdrach, prípadne aj s nožovými kontaktmi (Fast-on). Thermal fuses are also available in other packages, or also with tabs (Fast-in). Finally, we can mention, that to reach the highest protection level in critical application, it´s ideal to incorporate several types with a slightly different fusing temperature in series.

On stock we keep thermal fuses in a wide thermal range 72-240°C. In case of interest in other types, please contact us at info@soselectronic.com.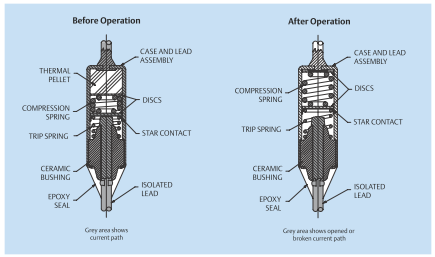 Advantages/ Features:
thermal fuses with a high power handling capability

important component increasing safety of devices

10A/250VAC (series G4) … 25A/250VAC

available with fusing temperatures 72-257°C

one-shot (non-resettable) function

acceptable price
Do not miss these articles
Do you like our articles? Do not miss any of them! You do not have to worry about anything, we will arrange delivery to you.