Literally endless long bands of a linear light can be produced with LEDs of the Duris E3 and E5 series. A wide-angle beam and a very uniform light distribution make these LEDs very easily applicable.
This is an archive article published 11/09/2012. Some information may no longer be up to date and in line with the current state. Please contact us in case of interest.
A pleasant lighting can be usually reached by a "soft" diffused light, when an object is lighted from various angles and that´s why no sharp shadows occur. This is relatively easily reachable in indoor areas by using several light sources and also thanks to light reflections - for example from walls. However, a homogenous lighting is probably the most influenced by a size of an area emitting a light. A desirable - big surface can be reached using a reflector ( in connection with high power LEDs) or more simply using a bigger amount of less powerful LEDs.
This is exactly the case of Duris E3 and Duris E5 LEDs. Thanks to their compact SMT packages, they can be freely used on PCBs of virtually any shapes. Small dimensions of both LEDs enable tight placing of LEDs next to each other. OSRAM Duris E3 and Duris E5 LEDs feature a very homogenous radiation pattern in a wide angle (120°) and a high efficiency of up to 110lm/W. The result is a perfectly homogenous light without visible dots. That´s why they´re perfectly suitable for a construction of replacements of classic fluorescent lamps (CCFL) (T5 a T8) and bulbs. Duris E3 and E5 have very similar optical specification, the main difference is in the maximum current of 30mA/E3 versus 180mA/E5.

It is good to realize, that a maximum current of LED has nothing in common with efficiency, i.e. even low-power LEDs feature a high efficiency (lm/W). That´s why approximately the same-efficient light source can be created by 1 OSRAM OSLON Square LED, but even by for example 50 pcs Duris E3 or 8 pcs Duris E5. An advantage of high-power LEDs is an easy achievement of a high luminous flux from a small area (spot lights) and an easy application of optics. On the other hand, less powerful LEDs are usually more easily applicable, no secondary optics is necessary and often even no additional heatsink is necessary because the power is dispersed on a bigger area and already the PCB itself is often able to lead away and dissipate a generated heat. That´s why the usage of Duris E3 and E5 is very simple and virtually immediately after soldering LED to a PCB we gain a working source of a homogenous light. .

Detailed information will provide you the Duris E series overview and OSRAM LED solutions. In case of interest in any OSRAM LED diodes, please contact us at info@soselectronic.com.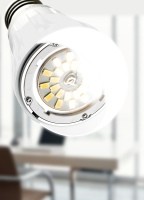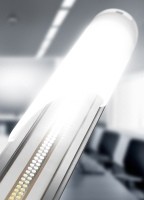 Videos
SMD mid-power LEDs for linear lighting and application in retrofits.
Advantages / Features:
easily applicable SMT LEDs for lighting (SSL)

wide beam angle (110-120°) for a homogenous light distribution

high efficiency, typ. 110 lm/W/5000K

high CRI (typ. 72 - 85)

stable brightness over lifetime

also suitable for retrofits - replacements for classic light sources

compact dimensions 3x1.4 mm (E3) and 5.6 x 3.0 mm (E5)

cost-effective PLCC package
Do not miss these articles
Do you like our articles? Do not miss any of them! You do not have to worry about anything, we will arrange delivery to you.