Miniature GPS module Quectel L30 will provide data immediately after switching on
GPS module Quectel L30 Using SIRFstarIVTM chip offers an outstanding sensitivity, quick time to first fix thanks to a self-assisted GPS and a high resistance against in band jammers. You can use it also in miniature portable applications thanks to extremely small dimensions and a small consumption.
This is an archive article published 30.06.2011. Some information may no longer be up to date and in line with the current state. Please contact us in case of interest.
With dimensions of only 9x9x1.8mm it can be used in applications, where every piece of space is precious. It offers all functions which can be expected from a modern GPS module: tracking sensitivity -160dBm and -163dBm using external LNA, 48 channels, 80dB-Hz removing of in band jammers, UART/ SPI/ I2C interface. To a short time to first fix contributes also a possibility of self-assisted GPS by CGEE (Client Generated Extended Ephemeris), which can store data to an external EEPROM helping to a quick fix – within 10 sec. L30 supports this assisted-GPS function without the necessity of data download from server since it captures ephemeris data from satellites locally and predicts ephemeris out to 3 days. Function PTF (Push To Fix) enables almost immediate hot start - within 1 sec in applications which require infrequent position reporting, but on demand are data available almost immediately, at average consumption 50-500 uA. In this PTF mode, module wakes up regularly in a predefined interval (10-7200sec) to update a position and then stays back in a hibernation mode. To significantly reduce power consumption, at strong signal conditions you can use ATP mode (Advanced Trickle Power). At this mode, module cycles three states internally - switches on main parts of module only for a short time necessary to update position and in the rest of a cycle the module is in a hibernation mode. This cycle is configurable to 1-10 sec.
For development support, Quectel offers a development kit
L30EVB
with a baseboard, documentation and PC software.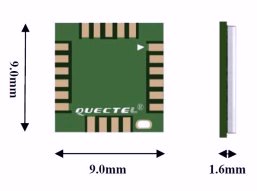 Features / Advantages:
-160 dBm tracking sensitivity, -163dBm with an external LNA, contains SAW filter
integrated LNA, possibility to directly connect a passive or active antenna
high interference resistance, removes in band jammers up to 80dB-Hz
hot start within 1 sec, at an average consumption only 50-500 uA
self assisted GPS (CGEE) with a 3 day prediction and a start within 10 resp. 25 sec
cold start within 35 sec
adaptive power management – 10mW for 1Hz output
NMEA 0183 protocol V3.01 and a backward compliance
power supply 1.8V, temperature range -40 to 85 °C
Do not miss these articles