All in one GSM 3G module Quectel U10 simplifies schematics and shortens testing time thanks to a quantum of built-in interfaces. If you´re searching for a module for transfer of data, voice, video, SMS and MMS, which has everything imaginable already built-in, then the Quectel U10 is the right solution for you.
This is an archive article published 08/03/2012. Some information may no longer be up to date and in line with the current state. Please contact us in case of interest.
Unbelievably many functions, supported protocols, built-in interfaces and other features are provided by the new 3G module Quectel U10. Thanks to this, in the most of applications it isn´t necessary to connect any other interfaces, what decreases the production cost of a target device. Only the list of features itself would occupy the whole article, that´s why we will mention at least some of them.

The module supports dual mode and is multi-band (WCDMA & GSM) and a UMTS (HSPA) high-speed data transfer, further supported even by a high-speed USB 2.0 interface and three UART channels. CMOS camera interface with an 8 Mpx resolution enables a direct camera connection without other extra costs. All necessary can be stored into a directly connectable SD card with up to 32 GB capacity. To gain a Bluetooth communication, it is only necessary to connect an antenna to the U10. The U10 module also contains a control circuit for Li-ion battery charging, what is convenient in mobile applications, as well as when using a battery as a backup source. RIL (radio interface layer) driver for WinCE6.0 and a USB driver for WinCE 6.0, Win7/XP and Linux 2.6 further simplify a communication and connectivity. Excellent sensitivity, advanced audio algorithms and video codecs contribute to universal usage of the U10 module. So that it was possible to use all functions without limitations, a given circuit should have a wide operating temperature range – U10 meets even this requirement at 100% and has a guaranteed functionality in range from -40 to +85°C. Connection of the U10 to a PCB is very simple, by an SMD connector (board to board). The module naturally enables to use SIM cards of any GSM operator. U10EVB-KIT development kit is also available for a development support.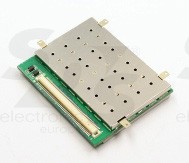 Basic information will provide you the U10 module specification and the Quectel U10 presentation. Detailed information will provide you the U10 Hardware Design, U10 AT Commands set, U10 EVB kit user guide and the video call application note.

U10, as well as U10-EVB kit are available directly from our stock. Guide price of the U10 module is 50 EUR at purchase of 1 pcs. Upon request we´ll let you know the exact price for your project. In case of interest, please contact us at info@soselectronic.com.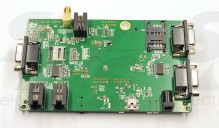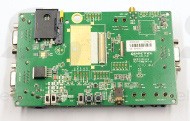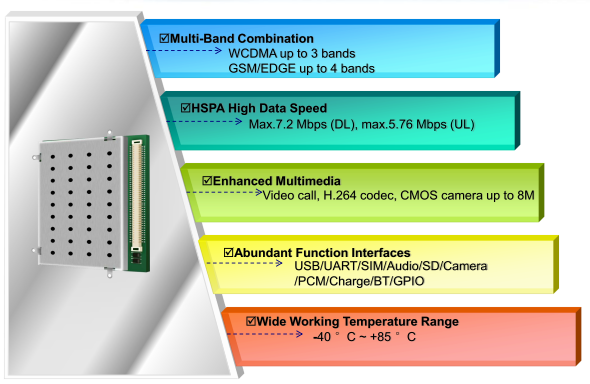 Advantages / Features:
dual mode/ multi-band WCDMA and GSM module

high speed HSPA data transfer 7,2Mbps (DL)/5.76Mbps (UL)

GPRS & EDGE, multi-class 12

dual SIM

camera interface, up to 8 Mpx

enhanced temperature range -40 to +85 °C

many built-in advanced protocols

SD card interface, up to 32 GB

USB 2.0 high speed interface

Bluetooth interface

3x UART (up to 921600 bps)

Li-ion battery charging controller

easy mounting via a 100 pin B2B connector

2 Mpx camera included in the EVB kit
Do not miss these articles
Do you like our articles? Do not miss any of them! You do not have to worry about anything, we will arrange delivery to you.