100% equivalent output power, high efficiency with a combination of low ripple, separate output channels. A user-friendly, high-performance resource from Rohde&Schwarz is affordable and also features a number of support functions for better work.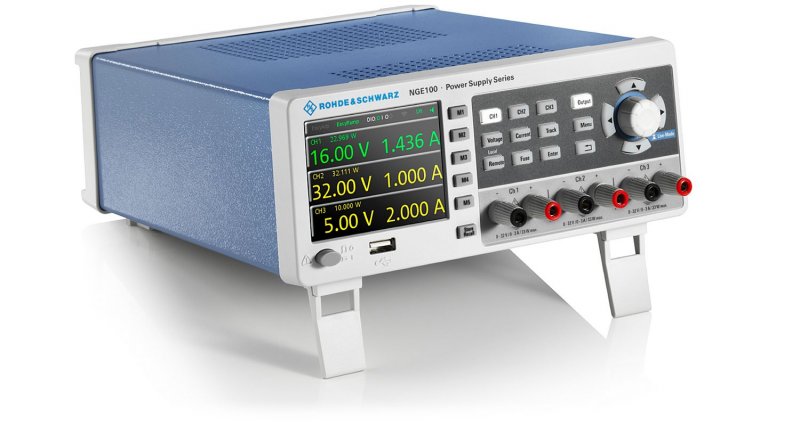 R&S sources
NGE100
can be included in a group of basic
laboratory power supplies
with many surprises in the form of simple controls with a brief and clear graphic display, silence, PC connection and control, galvanic separation of all channels and much more.
Compared to comparable sources, NGE100 has up to 100% electrically equivalent output power, which can also be understood as two sources in one (for two-channel versions of NGE102). Each channel works completely independently; it has the already mentioned galvanic isolation.
Serial connection is a matter of course so that we can get a voltage of up to 64V from a 2-channel version and a 96-volt 3-channel version. The parallel connection can achieve a current of up to 9A.

For each channel, it is possible to set the current and voltage separately. Assistance for the set value and no exceedance of the set value are electronic fuses for maximum overcurrent protection (OCP) and over-voltage protection (OVP).




PC control is possible via USB (standard), LAN (NEC-K101 R&S package) or Wi-Fi wireless network (NGE-K102 R&S package). Therefore, this resource is suitable for use in laboratory environments with a connection directly to your application.
For example, R&S recommends installation in mounting racks, and so with other devices, create a measuring station according to the specifications.
If you are interested, please do not hesitate to contact us at info@soselectronic.com
Advantages / Features:
Max. output power 33.6W per channel. 66W (R & S NGE102) and 100W (R & S NGE103)

Max. output voltage 32V per channel (64V to 96V at serial connection)

Max. output current 3A per channel (6A to 9A with parallel connection)

Electronic OCP fuse

Overvoltage protection OVP

Protection of the OPP

Overtemperature protection OTP

Interface: USB, LAN, Wi-Fi

Optional digital I / O (4-bit)
Do not miss these articles
Do you like our articles? Do not miss any of them! You do not have to worry about anything, we will arrange delivery to you.