Do you really pay for advertising? Try this: Reach out to more than 200,000 people from the industry. This is advertising that works and is FREE.
This is an archive article published 10/08/2014. Some information may no longer be up to date and in line with the current state. Please contact us in case of interest.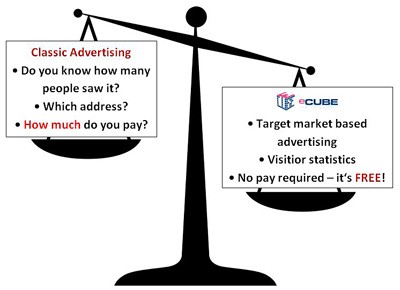 Honestly, how much do you pay for your product's advertising in professional magazines, or electronic media? And do you know what results you get from such advertising?
With eCube you move a step ahead!
We aren't saying you don't end up with paid advertisements. Just try the possibilities of promoting your products though electronic
eCube
.
Our facts and experiences speak for themselves:
127 companies promoted 183 of their products on eCube in the opening month ,
More than 21.000 people visited eCube in its opening month,
Several products at eCube links have better positioning in Google search than their own manufacturer's websites,
Daily we work on real manufacturer requests (More but to name a few: Elcom, Telegrafia, Comergon, Data Center, Canor, ...)
TOP 10 popular products on eCube:
So what do you think?
We don't believe you don't want to promote, or morever get additional clicks for your products or atleast better PR for your company :)
Pay nothing, it costs you just 10 minutes of your time. Get started at www.ecubeportal.com!
Do not miss these articles
Do you like our articles? Do not miss any of them! You do not have to worry about anything, we will arrange delivery to you.