MIFARE® and DESfire RFID modules from company Stronglink enable to use advanced RFID technologies while maintaining a very affordable price.
This is an archive article published 08/10/2012. Some information may no longer be up to date and in line with the current state. Please contact us in case of interest.
MIFARE® ultralight, MIFARE® 1k, MIFARE® 4k and MIFARE® DESfire are known technologies of RFID enabling to use various application, store various data and other functions. From this reason, they´re largely used in admission systems, loyalty programs, goods tracking and many other segments. From the security point of view, mainly the DESfire system with the DES/AES encryption excels. New 13,56 MHz Stronglink modules in our portfolio - SL025M, SL030, SL031, SL032, SL040 and SL040A enable to use these technologies and they are relatively easily applicable because of more reasons. Firstly, they are available in more versions with UART, I2C, RS232 as well as USB interface, they are certified (CE and RoHS) and the producer provides an above-standard development support.
Usage of modules is also simplified by their low power consumption and a relatively very low-profile construction with the height of only few mm. An important factor - the price, also says in favor of Stronglink modules, because they´re available for relatively very competitive prices. For the development support, there are also available source code examples for various microcontroller families. Further information will provide you the SL025M, SL030, SL031, SL032, SL040 and SL040A user manuals and AN100721, AN101203 and AN110221 application notes.

Selected types are already available directly from our stock, upon request we´re able to provide you any other Stronglink type within few days. In case of interest please contact us at info@soselectronic.com.
MIFARE® and MIFARE Classic® are registered trademarks of NXP B.V.

● SL031 - Examples of source codes: ARM, AVR, MCS51, MSP430, PIC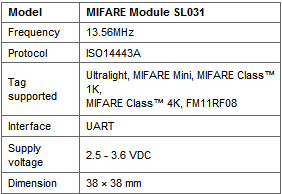 ● SL032 - Examples of source codes:
ARM
,
AVR
,
MCS51
,
MSP430
,
PIC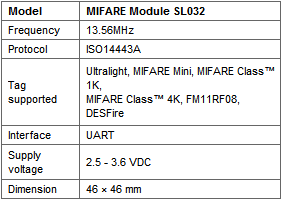 ● SL040A -
configuration tool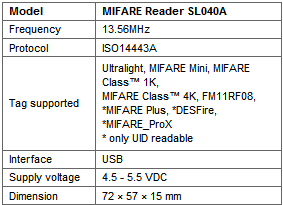 Advantages/ Features:
universal 13,56MHz RFID modules

MIFARE® ultralight, 1K, 4K and DESfire

high safety of transfer (DESfire)

available versions with UART, I2C, RS232 and USB interfaces

above standard technical support

very affordable price

small dimensions and a low profile

CE and RoHS certification

low power consumption
Do not miss these articles
Do you like our articles? Do not miss any of them! You do not have to worry about anything, we will arrange delivery to you.