Are you looking for a stylish touch screen terminal for the attendance system? Or even something more powerful? You will definitely choose from the TechNexion TEP series.
This is an archive article published 03/06/2018. Some information may no longer be up to date and in line with the current state. Please contact us in case of interest.
Displays
The TEP series features a robust all-metal design.
The display is mounted into the anodized aluminium frame with IP65 protection, which allows water washing. It offers models with 5, 7, 10.1 or 15.6 "display with a brightness of 300 to 400cd / m2 and and multi-touch projected capacitive touch panel.
Most models also provide independent output for an external monitor.
The options are summarized in the table No.1

Processors and Operating System

For NXP i.MX6UL and i.MX7D, we recommend using a Yocto Linux distribution, which is optimized for less powerful embedded devices. The models with i.MX6S, U, and Q processors also allow running Android. Linux and Android images are freely available on the TechNexion FTP server.
The Intel Atom X5-E8000 and Pentium N3710 models support OS Linux and Windows.
Storage and RAM
Models based on NXP processors allow you to use an internal eMMC as storage, avoiding problems with non-compatible micro SD cards. Standard eMMC capacity is 4GB.Bigger capacity eMMC is available upon request. Models based on Intel processors allow using M.2 2242/2280 SSD.
 Models with NXP processors have RAM soldered on the base board. Bigger RAM capacity is available upon request. Intel processors based models are shipped with 2GB SODIMM DDR3L RAM.
The available eMMC and RAM capacities are summarized in the table No.2 

Interfaces
TEP0500 and TEP0700 models are price optimized. They don't use extension module, RS232, CAN and GPIO are not galvanic isolated. TEP1010 and TEP1560 use extension module, galvanic isolated or non-isolated interfaces module is available.
Available interfaces are specified in the table No.3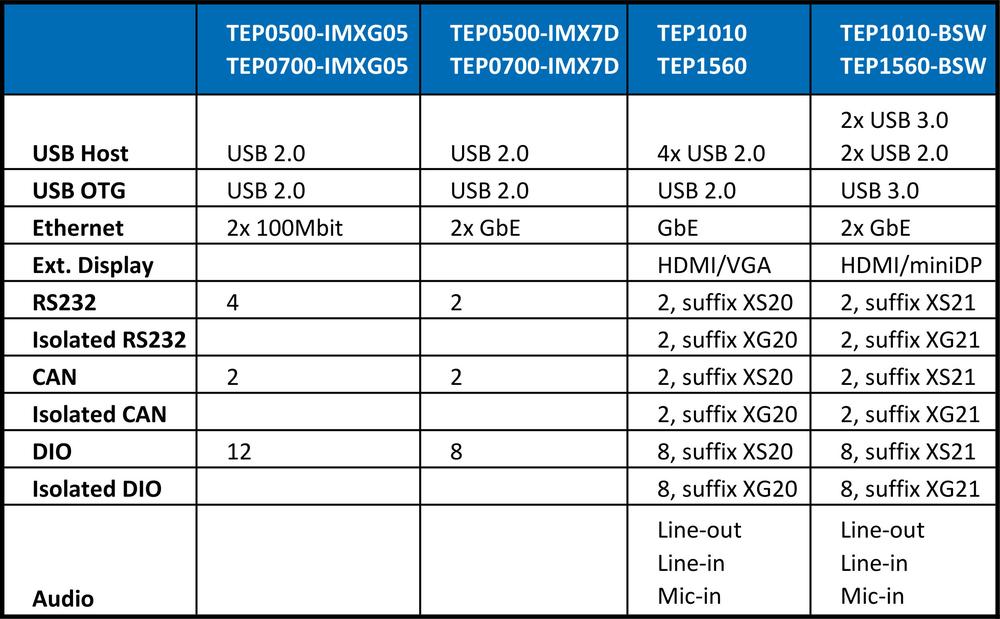 Wireless Communication
TEP0500 and TEP0700 models with i.MX6UL processor don't contain M.2 or mPCIe slot. Wireless communication can be complemented by a suitable external module plugged into USB port, EW-7811Un for example.
Remaining models include M.2 and / or mPCIe slots and slots for SIM cards, making it easy to add wireless connectivity as needed. Of course, there are pre-cut openings for the external antenna connector on the enclosure.
 The table No.4 will provide you with a summary of the slots used.

Product Numbering Example
1. TEP0700-IMX7D-R10-E04-L130
TEP0700 – 7" display, IMX7D –NXP i.MX7D processor, R10 – 1GB RAM, E04 – 4GB eMMC, L130 – power supply voltage 8...36V DC
2. TEP1010-E8000-R20-L112-XG21
TEP1010 – 10,1" display, E8000–Intel Atom X5-E8000 processor, R20 – 2GB RAM, L112 – power supply voltage 12V, XG21 – 2x RS232, 8DIO, galvanic isolated
For further information about Technexion products, please visit our Technexion web pages, or contact us at technexion@soselectronic.com.

Features:
Fanless cooling

IP65 front panel

NXP i.MX6, i.MX7, Intel Atom X5-E8000 or Pentium N3710 processors

Power supply voltage 12V, 24V, 8...36V and PoE 802.3at

M.2 and / or mPCIe slots for wireless communication modules, internal and / or external SIM slot

Linux, Android, Windows supported
Do not miss these articles
Do you like our articles? Do not miss any of them! You do not have to worry about anything, we will arrange delivery to you.