The compact box pre-filled with silicone-free gel provides IPX8 levels of moisture protection for WAGO's 221 and 2273 Series connectors. Gelbox is ready for immediate use in a wide range of low- and extra-low voltage applications. Try it out; it is our in-stock item.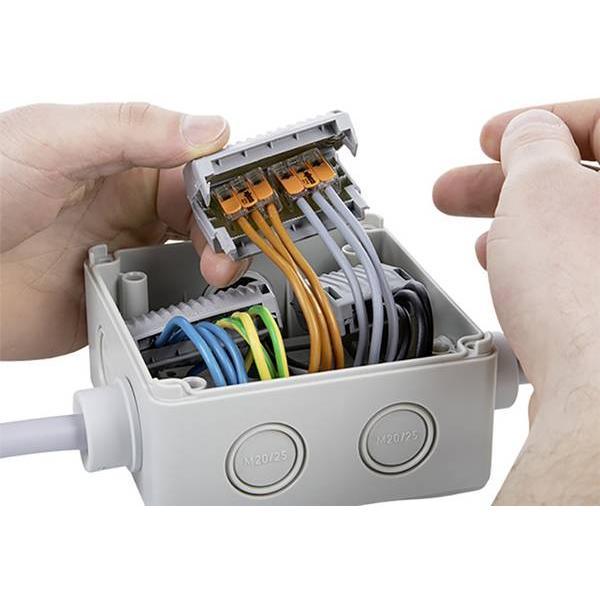 Condensation, heavy precipitation, powerful water jets - these are the things that electricity does not like. The waterproof box is the usual proven short-circuit protection solution.
However, now we are coming up with a solution that is even faster, easier and more reliable - WAGO Gelbox!
What is the WAGO Gelbox?
It is a compact box pre-filled with silicone-free gel. The Gelbox is available in six sizes and provides IPX8 levels of moisture protection for WAGO's 221 Series COMPACT Splicing Connectors and 2273 Series COMPACT Push Wire Connectors. This protection type means that the connectors are completely protected against water and can be permanently immersed in water. Conventional potting compounds like polyurethane and silicone also meet IPX8 requirements.
However, the WAGO Gelbox's distinctive feature is that it protects the electrical installation exactly where it matters – at the connection points – without permanently encapsulating the junction boxes. Unlike silicone-based gel, the WAGO Gelbox's silicone-free gel supports a virtually unlimited number of applications.

Where can the Gelbox be used?
WAGO Gelbox can be used in a wide range of low and extra-low voltage applications. However, the way it is used does differ somewhat in the individual voltage ranges. For example, in low-voltage applications (e.g., 230 V), the Gelboxes are used in junction boxes together with splicing connectors. This is the only way to ensure double cable insulation to protect against electric shock since only the conductors are encapsulated in the WAGO Gelbox. In SELV (Safety Extra Low Voltage) applications, the WAGO connectors can be used with Gelboxes without an additional junction box.
How is the WAGO Gelbox used?
Installation is quite simple: Open the box, insert the connectors, close the box. In more detail: Open the WAGO Gelbox, place the wired splicing connectors in the box and close the box with slight pressure. The gel completely wraps itself around the installation.
Thanks to a compact design, WAGO Gelboxes can be easily accommodated in every junction box. Different housing styles allow several connectors being accommodated in one WAGO Gelbox to create additional space in the distribution box. If a circuit needs to be expanded, the boxes can be easily re-opened and quickly and reliably re-wired – a real advantage over standard electronics encapsulation. The wires that were connected in the old installation can be reused for the new one. However, this requires new connectors and Gelboxes – this is the only way WAGO can guarantee the high degree of protection.

Why use the WAGO Gelbox?
The WAGO Gelbox offers completely new possibilities for protecting splicing connectors from moisture. This means that the boxes can be easily accommodated in any junction box – regardless of whether they are mounted on the wall or under the ceiling. First of all, the time required for mixing the components is eliminated. Secondly, additional time is saved because you do not have to wait until the mixed potting compound has finally hardened or dried. In addition, the gel is non-hazardous because its chemicals have already reacted, which makes the WAGO Gelbox ready for immediate use. The box is already prefilled with gel and seals the connection immediately, allowing electrical systems to be deployed right after installation without interruption – quickly, easily and reliably.
Risk of short circuit: What causes moisture to form?
How do moisture and humidity form in a junction box? Condensation can arise from rapid temperature changes, for example. This is often the case during transitional periods, such as spring and autumn when the warm air inside the housing meets the cold housing wall of the connector chamber, and it cools down abruptly. The result: condensation on the housing's inner wall. This physical effect is further magnified by power loss, which increases heat compared to the outside temperature.
These temperature differences also lead to pressure differences, which allow fresh air to flow into the connector over and over, introducing moisture. In total, a considerable amount of water can accumulate within the connector.
But heavy rainfall or a strong water jet too close to a distribution box can also cause moisture in junction boxes. "The moisture within the connector can then cause the current to take completely new paths, quickly leading to a short circuit." However, this is often only noticed when protective devices are triggered, i.e., when the fuses blow.
Which connectors are the WAGO Gelboxes suitable for?
The WAGO Gelbox is only tested and approved when combined with WAGO's 2273 Series connectors and WAGO's 221 Series COMPACT Splicing Connectors for conductor cross-sections up to 4 mm2. The box is available in six sizes. For each box, there is a layout that clearly specifies a fixed assignment based on the connectors that will be used.
Permitted combination of connectors and Gelbox.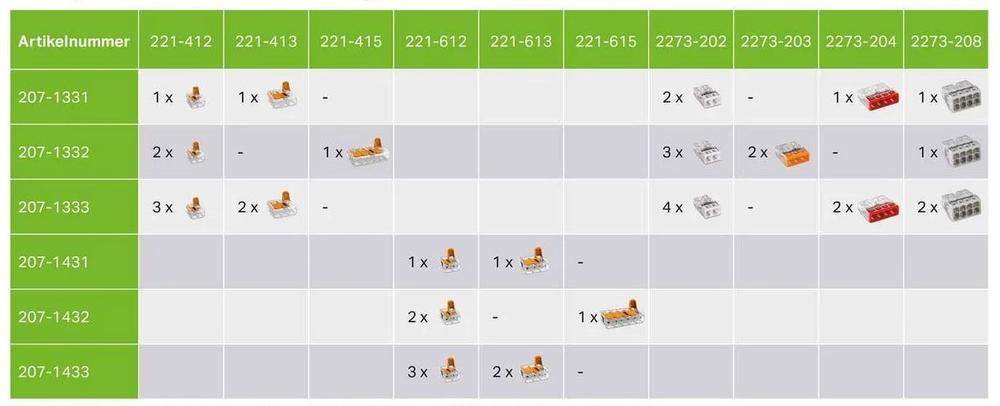 Note: with other combinations, IPX8 protection cannot be guaranteed.

Can I re-use the WAGO Gelbox?
No: To ensure a high degree of protection, both the Gelbox and the connectors must be replaced when reinstalling or rewiring.
How long can the WAGO Gelbox be stored?
The Gelbox can be stored indefinitely because the gel used has already reacted.
Wago Gelbox products are available directly from our warehouse so that you can try them straight away.
For further information about WAGO products, do not hesitate to contact us at sales@soselectronic.com.


WAGO Gelbox advantages:
Easy, fast and safe to use

Can be used immediately and accessed again later

Silicon-free

Label-free

Suitable for indefinite storage

The complete system consisting of Gelboxes and WAGO connectors, has been VDE-tested and IPX8-certified.
Videos
Reliable moisture protection for splicing connectors can be achieved even more quickly and easily with the WAGO Gelbox. It is ready for immediate use in a wide range of low- and extra-low voltage applications.