New family of conectors picoMAX from company Wago is substantially lower than traditional connectors and it is extremely resistant to vibrations.
This is an archive article published 11/08/2012. Some information may no longer be up to date and in line with the current state. Please contact us in case of interest.
picoMAX is a vast system of connectors with spring contacts for "wire-to-board", "wire-to-wire", "board-to-wire" but also "panel-feed-through" connections with very compact dimensions and universal usage, with pinov 3.5mm, 5.0mm and 7.5mm pitch. The biggest construction novelty of the picoMAX series is a new substantially changed design in comparison to a traditional design. New design of a pin+socket contact bridge enabled a significant decreasing of the connector´s height and at the same time a perfect mechanical connection of both parts to each other. It means a significant improvement of resistance to vibrations (up to 20g) in comparison to common connectors. A sturdy connection is further supported by integrated locking latches which avoid disengagement caused by vibrations
A new construction resulted in a very short path for an electric signal, what means a lower contact resistance (contact bridge and pins are from a tin-plated electrolytic copper) and a higher reliability. An absolute reliability of the contact is ensured even at high temperatures, thanks to an innovative clamp technology and an insulation material based on glass fiber reinforced PPA (polyphtalamide). As we might expect at Wago mark - connecting of wire conductors is simple, without specialty tools (only a usual screwdriver is necessary to release a wire) and in praxis there´s no limitation regarding the type or termination of a wire conductor (solid, stranded, fine-stranded, with ferrules, …).

A big plus of the picoMAX series is a diversity. With the picoMAX series we can be sure, that in this family we´ll find mutually compatible types for all connections. Simple and at the same time sophisticated system of coding enables to ensure a correct installation, for example in applications with several connections on one place. Despite of a vast amount of combinations of various connectors, the picoMAX system features a simple and an intuitive application.
picoMAX is also available in the "picoMAX eCOM" version - a PCB terminal block, which can also be used as a removable connection (plug-in). It is even more compact and economical version with pins without a plastic housing, suitable for applications in which you don´t need all advantages of the picoMAX system.

A complete description of the whole series would require many pages of text. A better and quicker idea will provide to you the attached video, picoMAX flyer and picoMAX catalogue. 3,5mm pitch version (2091-xx) is for wire conductors 0,2-1,5 mm2/10A, 5.0mm pitch version (2092-xx) is for wire conductors 0,2-2,5 mm2/16A/250-630V. 7,5mm pitch version (2092-xx) has similar properties as the previous one, but it has a higher nominal voltage (400-1000V).

picoMAX connectors are usable literally everywhere - in a huge amount of versions will be very probably found the right ones for your application. Selected picoMAX types types are on stock, in case of interest in any other type, please contact us at info@soselectronic.com.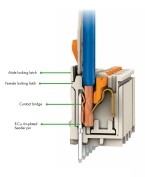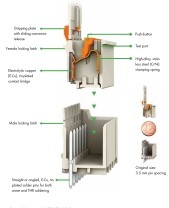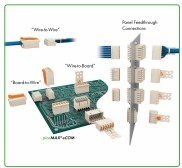 Videos
Advantages / Features:
entire system of connectors with CAGE CLAMP ® S spring contacts

brand new design with a radically decreased height

highly vibration-proof - up to 20g

simple and intuitive installation

available in 3.5mm, 5.0mm and 7.5mm pitch

available in many versions

extra wide operating range -60 to +100°C

connector housing from glass fiber reinforced PPA

also usable on a DIN rail by an adapter

test port for a 1mm testing pin
Do not miss these articles
Do you like our articles? Do not miss any of them! You do not have to worry about anything, we will arrange delivery to you.