W6100 is ready for IPv6
With the enormous growth of IoT devices connected to the networking, it became evident that far more addresses would be needed to connect devices than the IPv4 address space had available. Wiznet has a solution.
Internet Protocol version 6 (IPv6) is the most recent version of the Internet Protocol (IP). It is the communication protocol that provides an identification and location system for computers on networks and routes traffic across the Internet.
The new W6100 chip from Wiznet solves the problem with the lack of IP addresses in IPv4.
It supports IPv4/IPv6 dual stack by adding IPv6 functions on the basis of WIZnet's patented hardwired TCP/IP core technology. W6100 supports TCP/IP protocols such as TCP, UDP, IPv6, IPv4, ICMPv6, ICMPv4, IGMP, ARP and PPPoE. W6100 also includes 10Base-T/10Base-Te/100Base-TX Ethernet PHY and Ethernet MAC Controller which makes it suitable for embedded internet-enabled devices.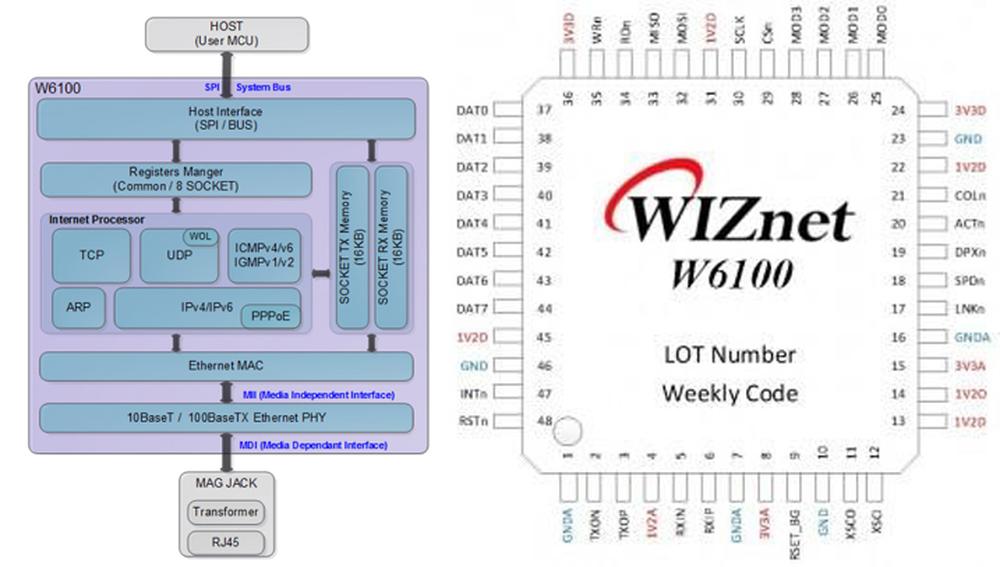 W6100 has 8 independent hardwired SOCKETs and supports various SOCKET-less commands, which are for IPv6 auto-configuration, monitoring, and managing the network via ARP, PINGv4, and PINGv6. It supports two kinds of HOST interfaces; SPI and parallel system BUS. It has 32KB internal memory for sending and receiving data.
It is designed for low power and low self-heating, W6100 provides WOL (Wake On LAN), Ethernet PHY power down mode, etc. W6100 comes in two packages, 48 LQFP, and 48 QFN; both are lead-free and these versions are PIN-2-PIN compatible with W5100S, which is a great advantage for easy migration from the older chip.
Features:
● Support Hardwired TCP/IP Protocols: TCP, UDP, IPv6, IPv4, ICMPv6, ICMPv4, IGMP, MLDv1, ARP, PPPoE
● Support IPv4/IPv6 Dual Stack
● Support 8 independent SOCKETs simultaneously with 32KB Memory
● Support SOCKET-less Command: ARP, PING, ICMPv6 (PING, ARP, DAD, NA, RS) Command for IPv6 Auto-configuration & Network Monitoring
● Support Ethernet Power Down Mode & System Clock Switching for power save
● Support Wake on LAN over UDP
● Support Serial & Parallel Host Interface: High-Speed SPI (MODE 0/3), System Bus with 2 Address signal & 8bit Data
● Internal 16Kbytes Memory for TX/ RX Buffers
● 10BaseT / 10BaseTe / 100BaseTX Ethernet PHY Integrated
● Support Auto-Negotiation (Full and half duplex, 10 and 100-based)
● Support Auto-MDIX only on Auto-Negotiation Mode
● Does not support IP Fragmentation
● 3V operation with 5V I/O signal tolerance
● Network Indicator LEDs (Full/Half Duplex, Link, 10/100 Speed, Active)
● 48 Pin LQFP & QFN Lead-Free Package (7x7mm, 0.5mm pitch)
● W5100S PIN-2-PIN Compatible
To speed up the development process we recommend a full-featured Arduino style development board equipped with STM32 Cortex-M3 MCU and debug interface. For prices and delivery information, please visit our webshop.
If you are interested in Wiznet products or need more information, we will be happy to advise you at sales@soselectronic.com

Target Application:
Home Network Devices: Set-Top Boxes, PVRs, Digital Media Adapters
Serial-to-Ethernet: Access Controls, LED displays, Wireless AP relays, etc.
Parallel-to-Ethernet: POS / Mini Printers, Copiers
USB-to-Ethernet: Storage Devices, Network Printers
GPIO-to-Ethernet: Home Network Sensors
Security Systems: DVRs, Network Cameras, Kiosks
Factory, Building, Home Automation
Medical Monitoring Equipment
Embedded Servers
Internet of Things (IoT) Devices and sensors
IoT Cloud Devices
Do not miss these articles