2J620P antenna - GSM and GPS under one roof
New antenna 2J620P will provide you a high quality GSM and GPS signal at once, moreover with a very simple assembly.
Tracking of vehicles or goods is still more used what naturally results into a requirement for a suitable antenna. One of them can be the 2J620P. It offers a very simple and elegant solution, as in fact it is "2 in 1" - two antennas in one enclosure, each with a separate RG174 cable and SMA connector. Assembly is absolutely simple - by means of included double-sided foam pad. Also supplied is even a small towel filled by isopropanol for cleaning of a place of assembly as well as antenna itself.
2J620P has a 2.14 dBi gain for GSM and 26-28 dB for GPS. The GPS portion is equipped by an active amplifier, that´s why requires 2.7-5.5V/15-25 mA power supply. In many applications can be also advantageous a flat shape without any nibs.
Detailed description of the antenna can be found in the 2J620P datasheet.

In case of interest, please contact us at info@soselectronic.com.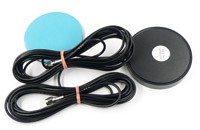 Advantages/ Features:
multiband GSM/GPS antenna
output 2x RG174 with SMA connectors
gain 2,14 dBi (GSM), 26-28 dB/GPS
power supply 2.7-5.5V/15-25 mA for the GPS portion
AMPS /GSM 900/1800 / 1900/ 2100 / 2400 / GPS 1575.42 MHz
operating temperatures range -40 to +85°C
77x12mm (DxH)
simple assembly - by a double-sided foam pad