The compact ebm-papst fan in the size of a tennis ball is equipped with a high-performance and high-efficiency EC motor (up to nominal 38,000 rpm) with an air flow of up to 513 l/min. The vibration-damping material and ideal aerodynamics ensure its extremely quiet operation. (reading for 3 minutes)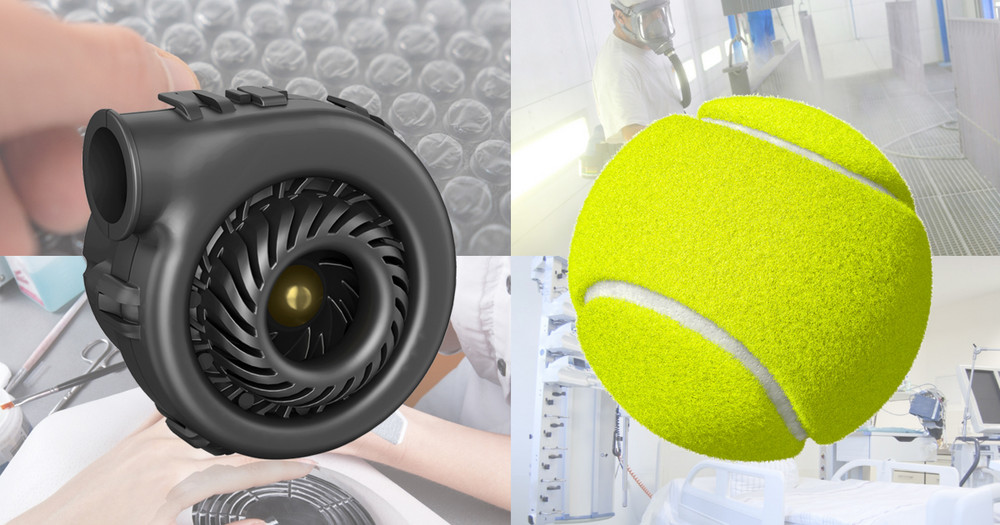 "The RV45 fan from ebm-papst was developed for the needs of a medical breathing device. This DC centrifugal fan has, however, exceeded expectations, has been further developed for the use in industrial applications and is coming to market as the RVE45 model,"
says Pavol Buhla, SOS electronic product specialist manager.




Centrifugal fan RVE45 from ebm-papst
The main pride of the RVE45 fan is its extremely dynamic EC motor offering fast and at the same time reliable switching between high-pressure mode and significantly reduced-pressure mode. The high speed - up to 38,000 rpm - provides the required performance. Maintenance-free ball bearing, vibration-damping materials and excellent aerodynamics ensure quiet operation for many years.
The product is manufactured in 2 models:
Motor, connection, and construction
Unlike the RV45 series, the RVE45 series already has integrated control electronics. Speed is controlled by a PWM signal or analog voltage. There is also an output signal to inform you of the actual speed.

Motor
very compact thanks to the new design 
special strong magnets used 
lightweight rotor for highly dynamic operation - it can accelerate up to 80 revolutions per millisecond 
blade geometry is optimized for aerodynamics, the rotor can withstand high pressures and up to 38,000 rpm 
it is quiet at a given performance - 58 dB (A)  minimal vibrations - dynamic balancing of the impeller-motor unit
Connection
very simple - 4 wires with free-end

Construction
case optimized for noise reduction
easy to fasten in the application with screws


5 key areas of suitable use of the RVE45 fan
"Due to its properties, this centrifugal fan is especially suitable for the applications where a dynamic air supply at high static pressure is required. The extremely compact fan, about the size of a tennis ball, is therefore suitable for applications such as fuel cells, smoke detection systems or packaging machines," continues Pavol Buhla.
The 5 main areas that are mentioned below represent in what kind of applications you can already find the RVE45 fan:
vacuum lifters, 
breathing masks (eg in a paint shop), which can also be powered by a battery, 
hospital beds with anti-decubitus mattress, 
dust extractor in nail studio, 
production of bubble wrap.
"It is already clear at first glance that dynamics are needed in many of these applications. However, the RVE45 centrifugal fan can change speeds from 0 to 38,000 rpm in less than 500 ms. And active braking means that the fan can achieve similar dynamics also when reducing speed," concludes Buhla in a review of the new product from ebm-papst.
For further information on RVE45 series fans or other ebm-papst products, contact the SOS electronic sales representative in your region or send an email to sales@soselectronic.com

Videos
POWERFUL, COMPACT, QUIET

Due to special features, the RVE45 is extremely compact blower and can be implemented in very diverse industrial applications.

"It is a power pack for the high demands of industry." ebm papst
Do not miss these articles
Do you like our articles? Do not miss any of them! You do not have to worry about anything, we will arrange delivery to you.