Save energy with sensitive relays Fujitsu JV series
500, 400, 300 mW are common values of coils power consumption of mid-power relays. But JV-xS settles for 200mW and operates even at 113 mW!
This is an archive article published 03.10.2017. Some information may no longer be up to date and in line with the current state. Please contact us in case of interest.
Power consumption of for example 500 mW is low at the first sight and it may seem, that at a power consumption of other power circuitry it somehow "disappears". Sometimes it maybe really is a relatively negligible value, but in many cases the power consumption matters very much. Apart from a general trend of power consumption reduction, a lower consumption enables for example a longer operation from a backup source at a voltage dropout. Moreover at arrays with several relays an overall consumption easily reaches even tens of Watts, what may bring for example problems with heat dissipation in summer season and similar.
Relays Fujitsu series JV-xS are quality relays of a mid power (5A) with a maximum switching voltage of 250VAC/ 1250VDC with a very sensitive coil. Small dimensions and a low profile (only 12.5 mm) contribute to versatility of the relay. Despite small dimensions provides JV-xS a high level of safety thanks to 5000VAC isolation strength (coil/ contacts) and construction from a self-extinguishing plastic.

JV-xS series is available with DC coils from 3 to 24V (JV-3S... JV-24S). Uponrequest we´re able to provide you also any other available versions.
Detailed information will provide you the Fujitsu JV datasheet.

In case of interest, please contact us at info@soselectronic.com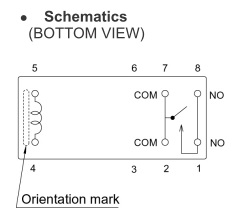 Advantages / Features:
5A mid-power relay SPST (NO)
sensitive coil - 200 mW/ operates even at 113 mW
max. switching voltage 250VAC/150VDC
low profilel - 12,5 mm
Cadmium free silver-based contacts
self-extinguishing material of package (UL94V-0)
8mm isolation distance
5000VAC isolation strength
Do not miss these articles