We offer the new Swiss brand SENSIRION - the high-tech products to measure humidity, temperature, differential pressure, fluid flow or quantity of gas.
This is an archive article published 04/21/2011. Some information may no longer be up to date and in line with the current state. Please contact us in case of interest.
CMOSens® - the essence of the Sensirion sensors benefits All Sensirion products are manufactured by CMOSens ® technology, which allows a single chip sensor placed itself in combination with the circuits for analog or digital signal processing. Thus produced chips allow precise and reliable sensing of the required physical parameters such as relative humidity, temperature, or flow.
CMOSens® technology ensures high accuracy, reliability and functionality in addition to cost effectiveness. Uniqueness of CMOSens® technology confirms with its associated to 30 patents owned by Sensirion.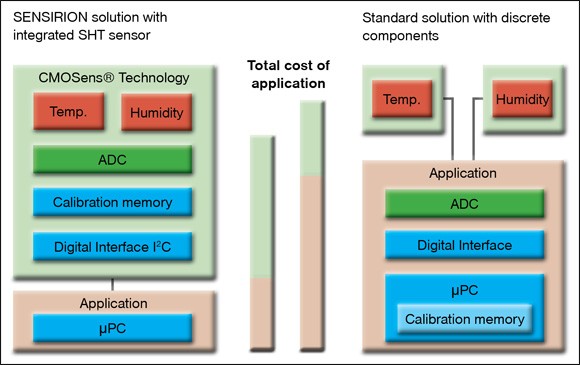 Humidity and temperature sensors
Sensirion sensors of SHTxx series provide a comprehensive solution for measuring humidity and temperature for the industry (miniature sleeve, ready to use, no need for A / D converters).
These sensors operate on the principle of changing the parameters of media, which capable responding to change in humidity (special polymer), which alters its electrical properties depending on relative humidity. Capacitive method with "finger electrodes" is a patented solution by SENSIRION. Other methods of measurement - capacitive method with parallel capacitors or resistance method used by competitors have their disadvantages - are less accurate and are sensitive to pollution.


Pressure sensors and flow sensors
They working on a unique basis (based on temperature gradient) as opposed to competing (membrane), sensors, thus achieving better results in terms of quality measurement, stability and accuracy parameters.
Benefits is also a long life without interim adjustment and calibration. Supplied in strips ready for Placing. Easy to use.

Pressure sensors offer you to order, ask for a quote.
Do not miss these articles
Do you like our articles? Do not miss any of them! You do not have to worry about anything, we will arrange delivery to you.