Miniature calibrated humidity and temperature sensor Sensirion SHTC1 is usable even in space - limited applications.
This is an archive article published 07/11/2014. Some information may no longer be up to date and in line with the current state. Please contact us in case of interest.
Really miniature dimensions and a low price are main benefits of new calibrated sensors SHTC1 from production of company Sensirion. If you ever tried well known sensors series SHT2x, probably you´ve been surprised by their small dimensions (3,2x3,2x2mm). However the new sensor SHTC1 shifts dimensions a level further, or better said - lower. The result is a DFN package with dimensions of only 2x2x0.75mm, what in praxis represents a package, which you may not notice at a cursory look at a populated PCB. That´s why the SHTC1 is primarily intended for mobile applications and everywhere, where a spared space and a minimal power consumption are beneficial.
Taking a low price in mind, the guaranteed accuracy of SHTC1 chip is relatively excellent, roughly on a level of SHT21. Typical accuracy of ±3% in a range of 20-80% RH and ±0.3°C is probably fully sufficient for majority of applications. 1.8 V supply voltage and ultra low power consumption below 1uJ/measurement are ideal for battery powered devices. SHTC1 supports I2C fast mode (0-400 kHz). This small package practically can´t be soldered by hand, but it is relatively easily possible by means of a solder paste and a hot-air soldering station.
Also the SHTC1 is produced by a well proven CMOSens technology, which proves its reliability and a long-term stability in industry. Similarly, the SHTC1 also isn´t only a "sensor" but a ready-made calibrated solution containing 2x sensor, low-noise amplifier, A/D interface, data processing unit with calibration data in a ROM and a communication interface. Detailed information can be found in the Sensirion SHTC1 datasheet and the Sensirion Humidity flyer.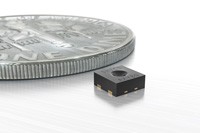 We´ve got samples ready for you!
If you´re interested in trying this perspective sensor, take part in a contest below the article, or contact us on a well known address
info@soselectronic.com
.
SHTC1 we keep so far as an item upon order and soon it will be a standard stock item.

Advantages/ Features:
ultra miniature calibrated temperature and humidity sensor

excellent price / performance ratio

extremely compact dimensions (2 x 2 x 0,75 mm), DFN package

typical accuracy +-3% RH and +-0,3°C

digital output with an I2C interface (0-400 kHz)

excellent reliability and a long-term stability

10-years industry proven technology

extremely low power consumption, below 1uJ / measurement

high immunity against external disturbances (EMI/EMC)
Do not miss these articles
Do you like our articles? Do not miss any of them! You do not have to worry about anything, we will arrange delivery to you.
Get the SHTC1 sensor for free!
Competition with the following question has been published here:
What´s the guaranteed accuracy tolerance of relative humidity measurement at the SHTC1 sensor, in a range of 20-80% RH?
The correct answer was: ±4,5%
We have drawn the following winners:
Radovan Bakos [CZ]
Otto Koššiba [SK]
Michal Giemza [CZ]
Pavel Stejskal [CZ]
Ľubomír Grosiar [SK]
Vladimír Škula [SK]
František Bulko [SK]
Václav Kočka-Amort [CZ]
Pavel Sklenar [SK]
Libor Biskup [CZ]
Martin Vinklárek [CZ]
Jan Sedláček [CZ]
Petr Mudroch [CZ]
Sándor Vida [HU]
Juraj Galbavý [SK]
Péter Berecz [HU]
András Szeder [HU]
Iosif Borcsa [RO]
Tomas Tobl [SK]
Andrzej Wilczek [PL]
Dan Mihai Luca [RO]
Ervin Major [HU]
István Kovács [HU]
Miklós Lambert [HU]
György Bessenyei [HU]
Kazimierz Ruciński [PL]
Tomáš Starčok [CZ]
Paweł Pogorzelski [PL]
Zsolt Szászfai [HU]
Imrich Kalianko [SK]
Congratulations to winners. We´ll inform them by e-mail.