With ControlCenter or SensorViewer software, and Sensirion evaluation kits, you can start the development with mass flow meters for gases and liquid flow meters straight away.
Mass Flow Meters for Gases


SFM3000, SFM3019, SFM3200, SFM4100, SFM4200
For these sensors, you will need a mass flow meter with cable for SEK SensorBridge, SEK-SFM3000, SEK-SFM3019 etc. and SEK SensorBridge.
ControlCenter takes care of data visualisation and storing to MS Excel compatible files.
ControlCenter automatically detects sensors connected to SensorBridge; no manual settings are necessary.

SFM3200AW, SFM3300AW (D), SFM3400AW (D)
These mass flow meters don't have connectors. Instead of them, there are golden pads on the PCB.
You will need a mass flow meter of your choice and EK-F3x-CAP adapter that connects to gold pads through spring-loaded pins and converts the I2C interface to USB.
Data is visualised by SensorViewer; the configuration procedure is given in the quick start guide.

SFM5400 and SFC5400
You will need an EK-F5x kit that contains RS485 to USB converter cable, power supply adapter and viewer software.
SFM5400 mass flow meter or SFC5400 mass flow controller has to be ordered separately. Select a suitable type with RS485 interface according to Table 8 and 9 in the SFM5400 datasheet.
Liquid Flow Meters
Sensirion offers evaluation kits for selected models from SLI, SLS, SLG, SLQ series and SLF3S-1300F and LD20.
Evaluation kits for LS and LG series are not available; however, you can use SLx flow meter kit instead of it.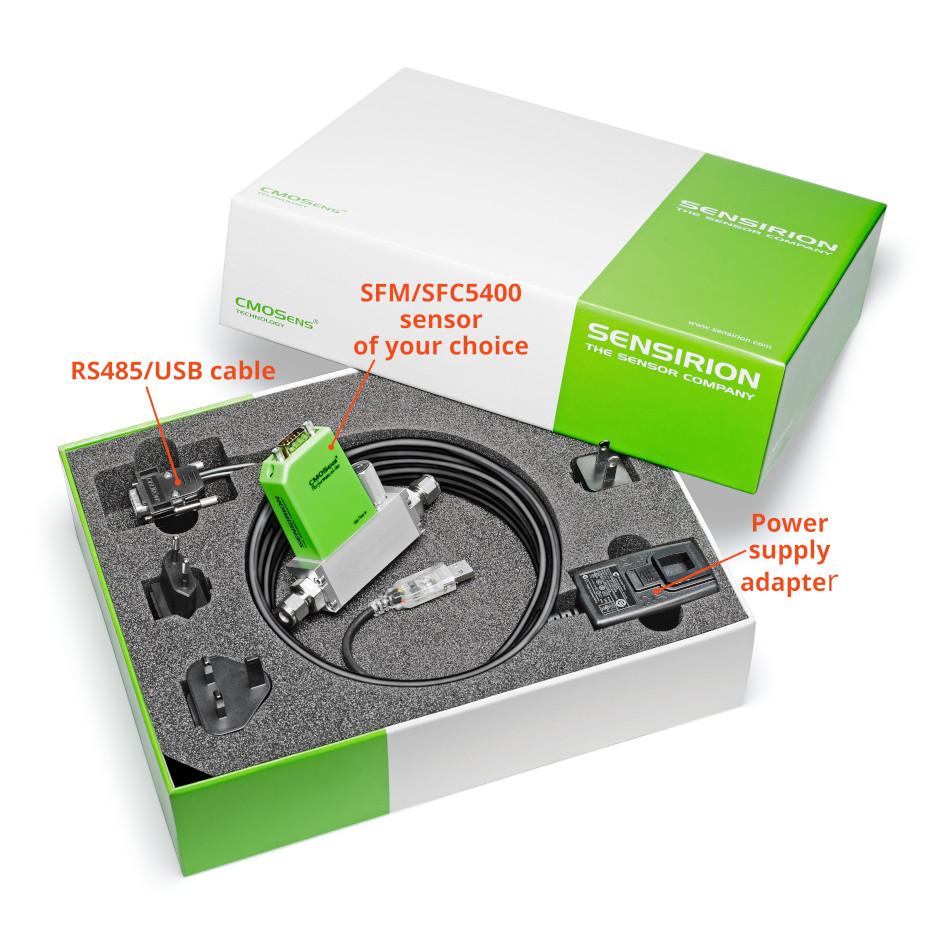 Liquid flow meter kit for SLI, SLS, SLG, or SLQ Series
Kit contains:
One of the available liquid flow meter of your choice
A basic set of fittings
SCC1-USB cable which includes an I2C/USB converter for connection to a PC 
SCC1-Analog cable (marked with red sleeve) which converts measured values to output voltage 0 to 10V

Evaluation Kit for the SLF3x Series
Kit contains:
SLF3S-1300F liquid flow meter
A basic set of fittings
SLF3x mounting clamp
Reduction from M8 connector to 6-pin connector and SCC1-USB cable for connection to PC
Ribbon cable with 6-pin connector for direct connection of the sensor to your hardware via I2C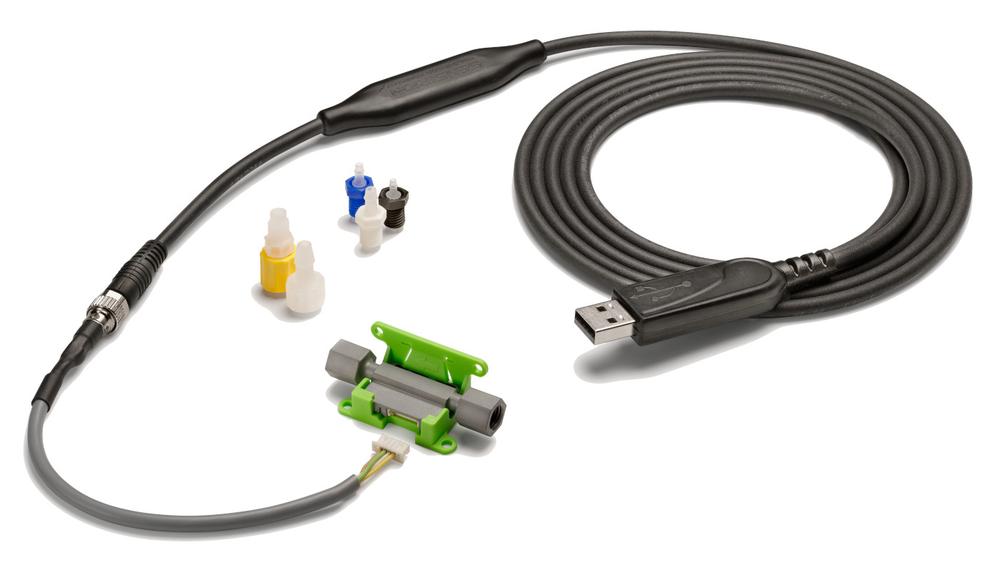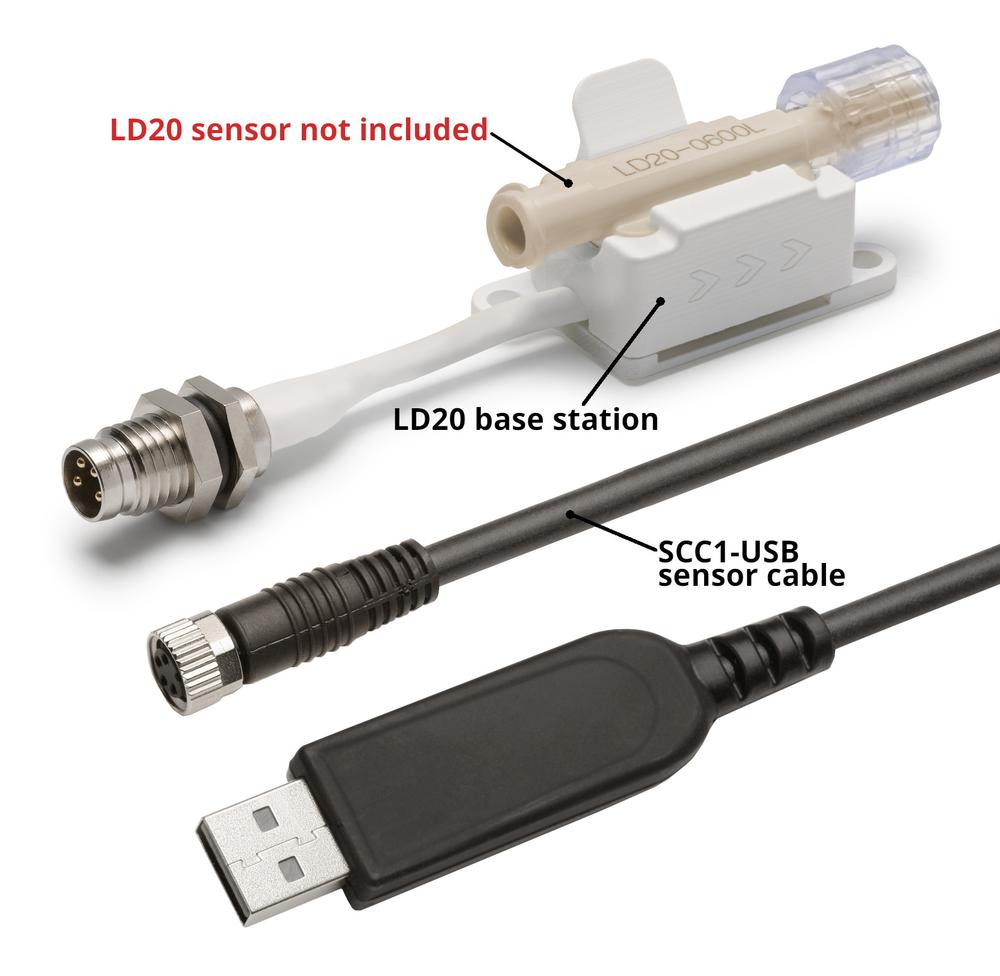 LD20 Connectivity Kit
Kit contains:
LD20 base station with 4-pin M8 connector.
SCC1-USB sensor cable for connection to PC
The kit doesn't contain the LD20-2600B flow meter; it needs to be ordered separately.
Useful information

Find all development kits and accessories in one place.
Handling Instructions:
Try to avoid strong mechanical shocks in order to avoid internal components being dislodged or the fluid seals being compromised.
We recommend using the tubing and fluid connectors with at least the same inside diameter as the capillary diameter. 
Start testing the sensor horizontally mounted. This is the orientation it has been calibrated in.
Cleaning Instructions:
After the measurement, rinse the sensor with deionized water, then acetone and finally IPA, blow it out with air or let it dry freely. Do not use acetone to clean the LD20 series sensors. Always store the sensor clean and dry.
If the sensor drifts, rinse it with acetone or IPA (possibly several times) or try to store it overnight with the sensor flow channel filled with acetone. Never mechanically clean the flow channel.
Please, check our assortment of SENSIRION products in the "Development Tools" category.
We are an authorized distributor, and therefore, we can also provide technical advice directly with the manufacturer and samples necessary for your development.
In case you need further information on Sensirion products, we are ready to help you at sales@soselectronic.com

Do not miss these articles
Do you like our articles? Do not miss any of them! You do not have to worry about anything, we will arrange delivery to you.