The YHKY-2000 contact-less infrared thermometer measures the temperature of the human body easily, quickly, and accurately. Strong optical and audio signals make the operation in schools, shops or the workplace easier. (2 minutes reading)
Basic features of YHKY-2000:
● range of measured temperatures from 34 to 43 °C
● measurement accuracy ± 0,2 °C 
● optimal measuring distance 3 to 5 cm
● backlit LCD display
● color indication of temperature 
● automatic shutdown when not in use
● power supply with 2x AA 
● FDA registration, COC-CE
Infrared Thermometer +34...+43°C, Accuracy±0,2°C 1...5cm, 2xAA not included
Ord.number: 336965
Special offer
ORDER:
ADD TO CART
Get Quote
Add to favorites
Add to watchdog
Add item to compare
Remove item from compare
Infrared thermometer YHK-2000
Even slightly increased body temperature is an indication that the human body is beginning to show symptoms of some disease. Protecting our health is priority number one not only in this pandemic time but also under usual conditions of everyday life. A practical and reliable thermometer should therefore be available everywhere where many people are present.

High accuracy
Parameters such as accuracy ± 0.2 °C and resolution of 0.1 °C meet strict criteria for the accuracy of human skin temperature measurement. The selected range of measured temperatures of this infrared thermometer is also a sign that this thermometer is primarily intended for measuring the temperature of the human body.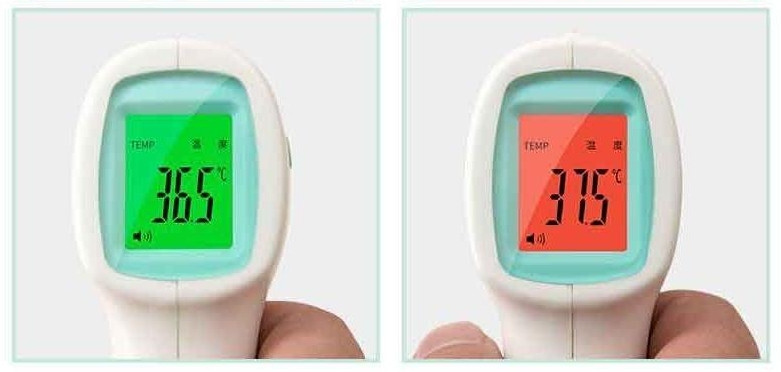 Practical design, contact-less measurement, but mainly clear and strong optical and audio signals are great advantages when measuring temperature with this infrared thermometer.
When the thermometer measures a temperature higher than 37.3 °C, the backlight color changes from green to red. The color indication along with the loud double beep significantly eliminates the higher temperature to be overlooked.

Power supply
With the relatively high prices of 9V batteries, which are typical for powering similar devices, the fact that the YHKY 2000 requires only two common and affordable AA cells is also a big plus. Automatic shutdown after 15 seconds of inactivity is a matter of course.

Immediate availability
Thanks to accurate measurement and simple operation, this contact-less infrared thermometer should be present in any public place where the increased temperature could endanger human health and the operation of the given place.
Contact-less Infrared thermometer YHKY-2000 is immediately available directly from our warehouse at an advantageous price. 

Are you interested in more information? Or do you have another question or request? Fill in the following form, we will be happy to help you.
Do not miss these articles
Do you like our articles? Do not miss any of them! You do not have to worry about anything, we will arrange delivery to you.