An overview of electronic components, modules and products that are ready for use in smart solutions, such as access and security systems, control and management of energy consumption, air conditioning or lighting in today's automated buildings.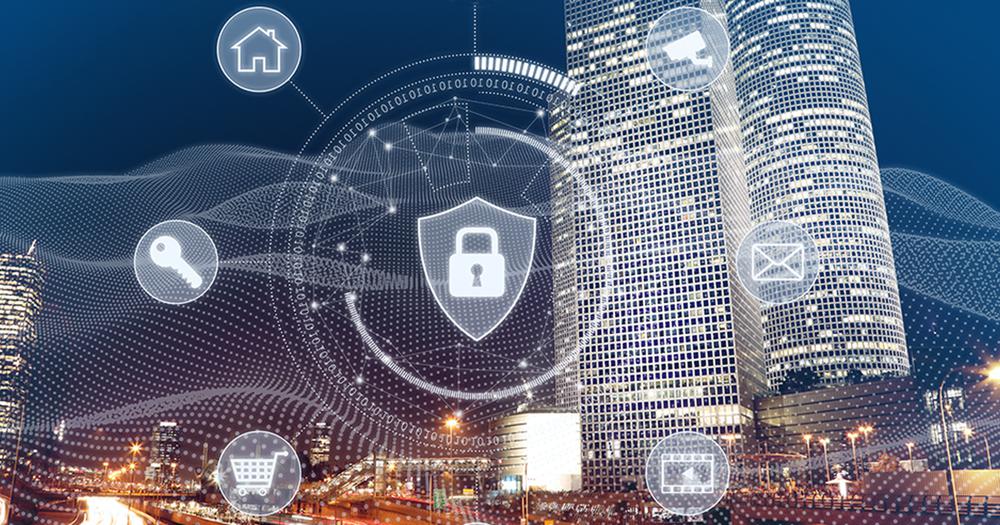 We can describe smart buildings as "automated buildings" or buildings using smart technologies. 
The intelligent building represents the automation and central control of technical equipment in a commercial place such as office buildings, airports, department stores or manufacturing plants.
The basic requirements for a "smart building" are security and optimised energy consumption. An intelligent building must provide users and operators with an environment that is optimised for comfort and energy efficiency but must adapt to their current requirements.
Smart solutions for smart buildings:
Access Control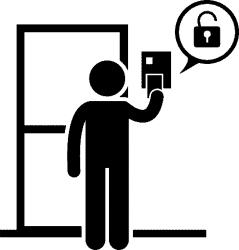 Access control systems
 provide access protection to apartment buildings, basements, offices and other premises.
There are many possibilities. Solutions using biometric data such as fingerprint, iris or human voice are being brought to the forefront. Still, systems using RFID elements or techniques using barcodes remain the most widespread so far.
Going through our offer, you can find many RFID readers and tags of different shapes - cards, wristbands and keyrings. Barcode and QR code readers are a matter of course. All results from readers are then processed by an industrial computer which decides on the applicant's input. It is also available in our assortment.
Alarm Systems
Fire, smoke, gas detection.

One of the key criteria for a smart building is security. There are truly many pitfalls like fire, smoke, poisonous or otherwise dangerous gases, but nowadays, for example, also the presence of weapons.
We offer a wide range of gas sensors. And if a dangerous situation occurs, you will be alerted by a siren. The system using wireless or wired communication modules will call the ambulance, firefighters or even the police.
Energy Management
The electricity meter, photovoltaic panels.

We expect an intelligent building to keep its consumption within optimal limits. In particular, we mean electricity.
And we have to start with metering. For this, we offer meters from the Italian manufacturer Finder. Both mechanical counter and LCD, single and three-phase but also certified, suitable for charging the user for consumption.
Of course, modern meters can already communicate, even in different languages - M-Bus, Modbus, NFC. We can evaluate the collected data using computers. And you can also find those who waste electricity.
HVAC
Optimum climate, temperature and air quality/control.

Scientific studies show that a specific ambient temperature is necessary for optimal human performance.
And of course, we need to ensure a different temperature in the office for the accountant than we need to ensure for her boss in the fitness centre. And a different one for his wife by the pool on the top floor. ;)


Again, we first measure the current condition, i.e., temperature and humidity, with sensors from Sensirion, and then our system issues a command for optimization. For example, to start the cooling fans on the roof from the manufacturer EBM-Papst. Flir's or Fluke's thermal imagers will reliably be used to revise heating and cooling equipment and detect leaks.
Lighting control system
Lights control to provide the right luminosity where and when it is needed.

One of the leading players on the market for components for installing and controlling lighting buildings of all kinds is WAGO.
Their lighting control systems include:
Switching: Power on/off (with/without watchdog), latching relays, staircase function, automatic light (motion detector), dimming control
Dimming: Dimming with presence sensors
Lighting control: Human Centric Lighting (HCL), constant light control, daylight control 
Time functions: Weekly, vacation and special switching programs, holidays 
Slave function: External virtual room, external dimmer
Safety lighting for both single and central battery 
Accurate energy consumption measurement 
Simple project documentation
With the WINSTA connector system, lighting installation will be quick, easy and reliable. Furthermore, Wago offers a wide range of components for the use of the DALI protocol and the KNX standard.
Security Systems
The system is designed to detect intrusion, unauthorised entry into a building.

For many people, protecting their property comes second after their health; it is essential for others. 
Whether for one or the other, we offer components that will help protect property and privacy from unauthorised people. These include pyro sensors but also simple switching contacts for doors and windows as well as optical barriers. Communication modules add intelligence to the system.
Building Automation
The automatic centralized control of a building's systems.

All of the previous solutions will form a truly intelligent system if combined into a single unit. Everything can be monitored and controlled automatically with a human intervention using a computer or computers.
We offer a wide range of industrial computers with a higher level of safe and reliable functionality than conventional personal computers. You can complement small industrial computers with handy touch-panel displays.
Download an overview of smart solutions in smart buildings with hyperlinks on electronic components. The interactive leaflet is in pdf format.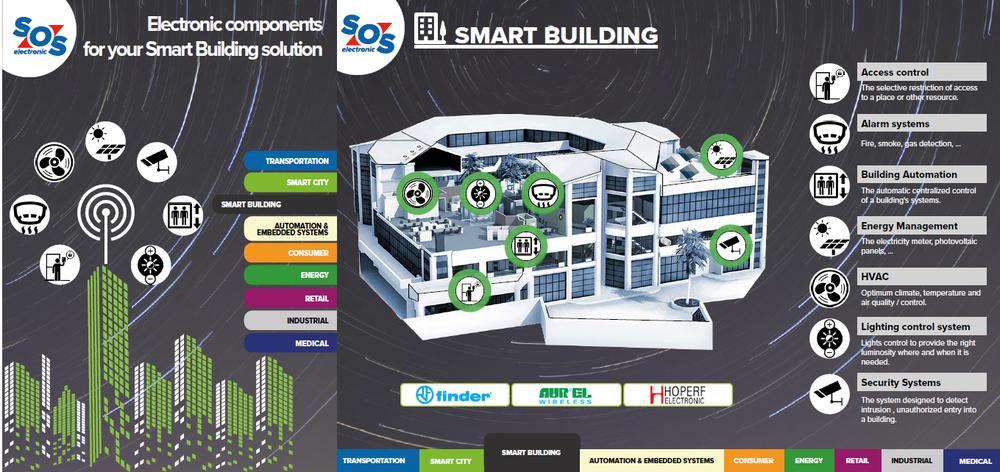 If you are interested in or are already preparing a solution in one of the above-mentioned areas, do not hesitate to contact us at sales@soselectronic.com. We will be glad to offer you our capabilities, share our experience, and find the product that fits your smart building application best.

Do not miss these articles
Do you like our articles? Do not miss any of them! You do not have to worry about anything, we will arrange delivery to you.