Are you involved in the automotive, railway or any other industrial transport field that requires electronic components with greater demands for reliability, operational safety and durability? SOS electronic is the partner you can rely on. We cooperate with leading producers of electronic components in this field.
This is an archive article published 03/08/2021. Some information may no longer be up to date and in line with the current state. Please contact us in case of interest.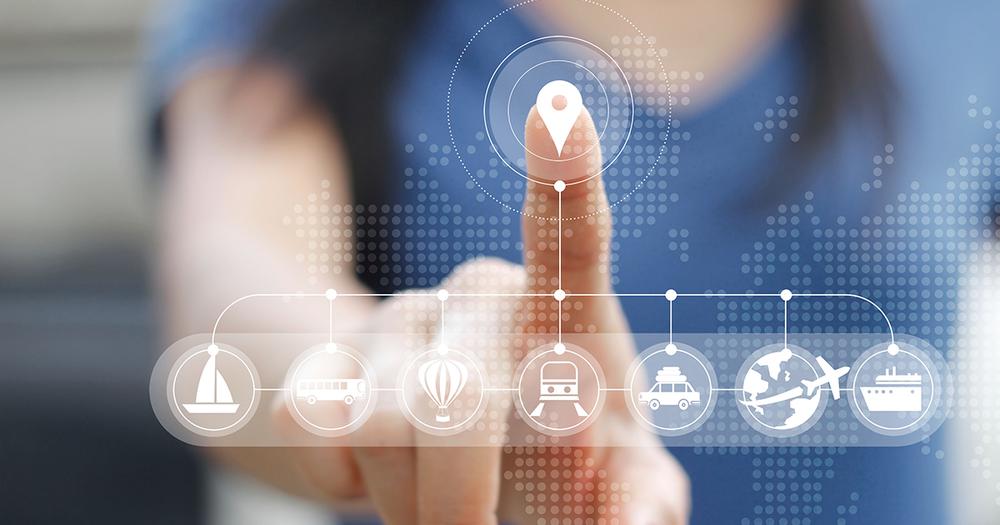 The transportation sector is a category of companies that provide services to transport people, goods, or necessary transportation infrastructure. The sector consists of several industries, including air freight and logistics, airlines, marine, road and rail, and transportation infrastructure.

If you are a manufacturer of electronic devices
for the transportation
 sector, SOS electronic can be one of your partners you can rely on.
We have contracts with producers of electronic components, who are the leaders within their field.
Check an overview of solutions and manufacturers with their product range, which we can reliably provide you with.
Product categories and areas of application in the industrial transportation sector:
Communications, Antennas - Better and safer transport control

Communication with moving objects using wireless modules is essential for today's transportation.
Telemetry, navigation, fleet management, warehouse management all these applications require a wireless connection to the target vehicle.
We have a solution for each of these applications.
Power supplies, Batteries - Efficient and safe power supplies for transportation

The power supply is probably the most important part of every application. Special power supplies with extended operating temperature range, certified for harsh environments such as railway according to
EN 50155
for shock and vibration resistance.
Chargers for e-vehicles

E-mobility is an integral part of the shift towards climate-friendly mobility. With our wide range of products and solutions, we are a reliable partner for automotive and charging infrastructure manufacturers.

Connectors, Cables and Interconnects

Whether people or goods are transported by railway, aeroplanes, maritime or automotive means, reliable connections are essential. We sell connectors ideal for transportation industry applications, including signalling systems, data acquisition and transmission, security and control systems or performance tracking. Connectors are designed for high reliability.

Buzzers, Loudspeakers

Sirens are often used as an alerting element, installed at the back of a car, truck, tractor, or any other vehicle that can move in reverse at any moment. Small buzzers are an ideal component to create an acoustic warning signal for internal use in a cabin. Loudspeakers can transfer speech, music or any acoustic content to desired places.
All these components have to be specified for heavy working conditions and a wide range of operating temperatures.
Displays and Optoelectronics
The display panel is a typical component for control boards and information boards, ticket machines, and many others. High reliability, excellent readability and depending on use - also a vibration resistance is often required.
As a typical indicating component and newly also for lighting and backlighting purposes, LEDs are used in transportation for decades.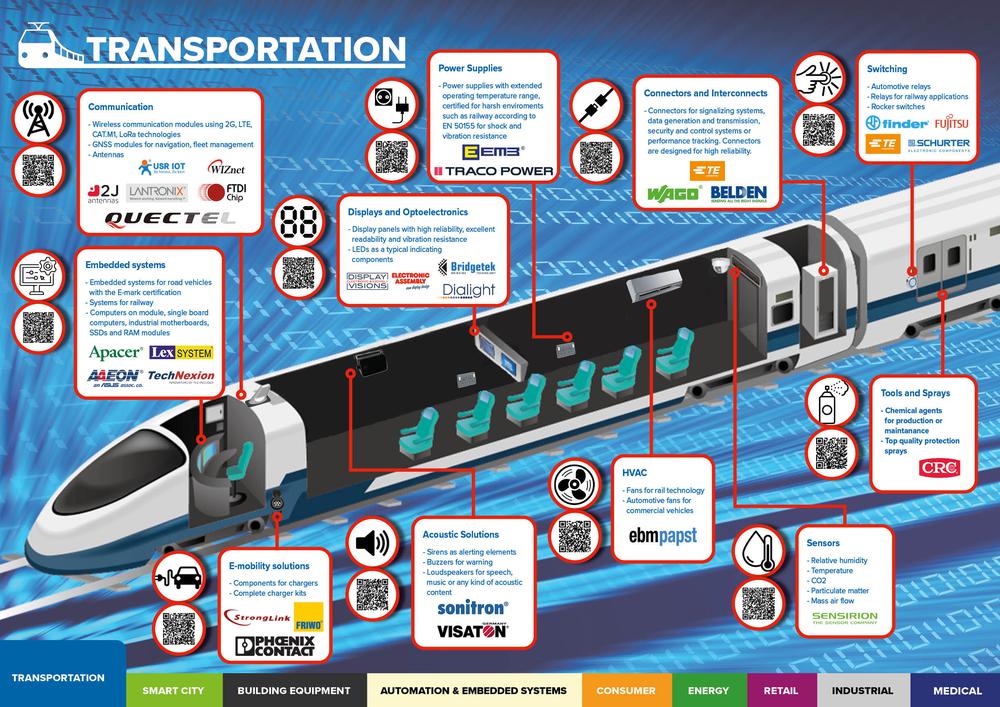 Tools and sprays
Whether you're looking for the right tool for your development and production or a chemical agent for production or maintenance in any industry segment, we can supply it to you. Top-quality protection sprays can dramatically increase the reliability of your devices.
CRC Industries - cleaners, lubricants, anti-corrosion products, adhesives, welding products, additives, paints, moulding products and other special products.
Switches, Relays - A great offer of relays and rocker/pushbutton switches

Automotive relays and relays for railway applications
 are subject to stricter technical standards, such as the need for wider operational ranges, higher resistance to shock and vibration, operation at higher temperatures and humidity and, above all, greater fire resistance. Similar requirements are placed on switches. 
Fujitsu offers standard high-quality PCB automotive electromechanical relays and relays for electric vehicles and plug-in hybrid vehicles in the last years.
TE Connectivity, besides PCB automotive relays, also offers plug-in relays and automotive contactors. They provide critical switching functions in automobiles, trucks, buses, commercial, construction, and off-road vehicles.
Finder offers relays compliant with EN 45545-2 + A1: 2016 (protection against fire and smoke), EN 61373 (resistance to shock and vibration, category 1, class B), EN 50155 (resistance to temperature and humidity, class TX) - relays for railway applications.
Marquardt offers rocker switches for off-road vehicles.
Schurter offers circuit protection devices for the automotive market.
Embedded Systems
Embedded systems for road vehicles must pass the E-mark certification process, systems for railway must undergo even more stringent testing. You can design such a system from our computers on the module, single board computers, industrial motherboards, SSDs and RAM modules.
AAEON, Technexion and LEX System offer SBCs, PanelPCs and BoxPCs for different transportation segment applications.
Apacer - industrial memory components for the computers mentioned above.
Sensors
Our sensors of relative humidity, temperature, CO2, particulate matter and mass airflow sensors allow the HVAC control system to create comfortable conditions for passengers or keep the optimal cargo transportation conditions.
Sensirion - manufacturers environmental sensors for the automotive industry to measure, e.g. relative humidity, temperature, gas concentrations and particle matter concentrations.
HVAC
We can supply 

fans for the automotive
 and
railway industry
. They meet all the relevant safety requirements and possess the relevant product properties required.
EBM-PAPST offers high-quality fans for both automotive and railway applications.
Do you operate in an industry related to the production of any vehicles or vehicle manufacturers' infrastructure? Is your product moving? On the hall, over the world, on rails, asphalt and other surfaces? Do passengers or carriers hear or see your product? Do you use or need electronic components that will last longer than regular ones?
Then you are at the right address. Send us your requirements for electronic components, and we will find a suitable solution for you.
If you need more information about products and solutions related to transportation or would like advice, do not hesitate to contact us at sales@soselectronic.com

Do not miss these articles
Do you like our articles? Do not miss any of them! You do not have to worry about anything, we will arrange delivery to you.