The international company SEAK, which is based in Slovakia, is very successful in creating an effective lighting management system for the public or private sector almost all over the world. Via their own development and production of solutions for lighting management and charging of electric cars, they prove how even a small Central European company can change world trends. We talked to Heliodor Macko, SEAK's CEO, about the company itself, its operations, and plans. The interview was led by Adriana Benediková.



Mr Macko. Thank you very much for finding a time slot for this interview. We know a lot about you. But would you please shed more light on what you are doing for our readers?
Certainly. Although this is a difficult topic, I will try to explain it in a simple way. Using our own electronic modules, which are mounted directly in the lamp and the electrical switchboard, we can remotely manage the lighting of buildings or public spaces via our software. For example, we can directly change the intensity or color of the light. Based on the subsequent diagnostics of the correct functioning, we can then coordinate the lighting process with automatic scenarios in a way that it has a positive effect not only on the city functioning but also on financial costs.
The point of such control is that instead of lighting constantly at full power from evening to morning, the lighting process was more logical. For example, in the residential areas, the light does not need to be of the same intensity at 3 am as it is at 8 pm. Based on statistics, we adjust the luminosity curves to meet people's real needs.
We get an average saving of up to 40% on electricity compared to a situation where the intensity of lighting is not controlled. At today's prices, saving 40% of your lighting bill is great. In addition, we control the lighting using our patented digital power line communication. This means it goes through exactly the same cable through which 230 V go to the lamp. It is interesting that our company also provides digital communication in this way, often over long distances.
That sounds great. What references could you mention?
Our biggest references are currently Kiev, where we manage about 50,000 lights, Barcelona - 6,000 lights, and in Israel we manage about 30 cities. We are currently about 15 countries in the world and we are working intensively to expand and to be able to export to other countries.
What is the demand situation for such a solution? Do you have to create this demand yourself or is there a lot of interest in it?
Honestly. Our colleagues in the sales department must also work hard, spread the information, and educate others. Cities often simply just replace the discharge lights with LEDs. But if they gave it a deeper thought, they would see that the initial investment of this project may be 10% to 15% higher, but their return on investment will ultimately be better. Because their consumption will be significantly reduced. This is because just changing the old discharge lamp for an LED will save you about 40% of the electricity, but proper management will save an additional 40%. 
In addition to lighting in the cities, you also mentioned halls and shopping malls. Do companies think the same way as cities? 
Of course, companies also want to save. Our largest industrial customer is the Tesco sales network. We manage lighting in virtually all bigger sites of this company in the Czech Republic, Slovakia, and Hungary. Another important customer from the private sector is also the Slovak production plant of Volkswagen. It makes sense to them because it pays off economically whenever there are enough lights. 
Modern halls usually have skylights. During the day, when the sun shines, we slightly reduce the brightness of the lighting. We make sure that the light is not disturbing and that there is always just as much light as we have defined. Neither more nor less.
If we are talking about ordinary office lighting, it can, of course, be done there as well, but with the low wattage of modern office lighting, it is more about the design and flexibility of the light than about the savings.
Can the user manage this operationally? Or do you set it for them at the beginning and then it does not change?
Of course, they can control it. At the beginning, however, we always agree on how the automatic mode should work, and if necessary, the object manager, for example, can then control it manually from his mobile phone. He can theoretically adjust each lamp separately if he wants (laughs).
Who is your typical customer? 
In the case of cities, it is a system integrator. We are a manufacturer of technology, so we rarely participate directly in public procurement. We supply technology for companies that provide a comprehensive solution for the city including installation, lamps, and the like. We do not produce the lamps themselves; we only produce modules for lighting control. 
In Spain, for example, we have a partner who buys modules from us, we train their people how to configure it all, and they take care of it afterwards. At the same time, they provide service and maintenance for their cities.
This is our typical sales model. In the case of industrial customers, where we control the lighting in some industrial buildings, we often have a service contract, and we can deliver turnkey solutions directly.
When answering my questions, you speak in the plural. But who is SEAK? 
SEAK has a research and development department consisting of electrical engineers and programmers who develop and improve our hardware and software. All this under the leadership of Ing. Goldmann.
Furthermore, there is a production department led by Mr Kundra and Mr Štofan, which makes sure that the modules are produced in the appropriate volumes, delivery dates and quality control. And finally, our sales and implementation fleet is under the leadership of Mr Pindroch and Mr Oravec, who takes care of the sale of our products and care for direct customers. There are 36 of us in total.
From your point of view, what is the future of your company? Which way are you looking?
First and foremost, we will continue to improve our system. We would like to expand our geographic portfolio to more countries. This is important for stability. The market is still relatively large, but at the same time the sales cycle is quite long, and it is also influenced by various election cycles and subsidy schemes. The fact that we have many foreign partners is very positive. Fortunately, various waves of pandemics and political changes, parliamentary elections and similar events do not happen in other countries at the same time. This thus gives us stability.
Throughout the years you have been on the market, have you encountered any curiosity that you still remember? 
The biggest challenge in terms of technology deployment for us was the pilot project in India, due to the very poor quality of the electricity grid. In our region, the socket has, plus-minus a few percent, 230 V as standard. In India, it is very common that it fluctuates between 150 V and 300 V during the day. The truth is that this also moves us forward. Especially because of India, we have improved our products so now they can survive such short-term fluctuations in the network. We set them up to detect such a condition, temporarily disconnect them, and we extended their life. 
Another interesting problem arose while doing a pilot project in Vietnam. There is permanently 70 - 80 - 90% humidity at a very high temperature. Such conditions will greatly verify the quality of the electronics and in fact the entire connection. When it starts to rain in Vietnam, it rains for a month and at the same time the vegetation there is relatively lush. Once we had a situation where a plant grew all over the whole lamp, which then began to overheat.
Have you encountered any failure that pushed you forward?
At the beginning of our activities, SEAK also produced lighting fixtures. When our customer needed a solution with parameters that were not on the market, our engineers designed the light and we made it for the customer. We produced many custom products, and it was very inefficient. 
Over time, we have succeeded in simplifying our product portfolio so that we now try to focus only on what we are unique in. And that is lighting control. We no longer want to produce everything. We rather buy components from a quality supplier, or partner companies, than we would try to produce absolutely every little thing. 



Let me reveal that this is not the only direction of your business. Tell us something about charging electric cars.
I admit that I am a big fan of electric cars. I have already driven more than 300,000 kilometers on "electricity". Therefore, I know that the biggest problem with the massive expansion of electromobility is the charging infrastructure. For example, if you live in a block of flats and park on the street, you will not buy an electric car because you need to charge your car where you usually park. And if charging stations were to be built on the street, sidewalks would have to be dug up, new cables laid, and so on. And here we come. Since we already manage the lighting and know how much electricity is needed at any given time to illuminate a particular street and which lamp shines at what intensity and consumption, we can offer the rest of the capacity of the electric cable for charging electric cars. 
Electrical wiring for public lighting was designed and built for old, inefficient lamps, so the cables laid under the sidewalks are relatively strong and have a large transmission capacity. If the lights are replaced by intelligent LEDs, we suddenly have enough free capacity in the infrastructure, which is already buried under the ground, and we can use it. Not to mention that the lamps do not light during the day and we can use the full capacity. 
We have only expanded our system with a function that divides the electricity transmission capacity between the lights and the individual cars. And thus, without digging up the streets, in case the lamps are properly built next to the parking lots, we can add charging stations to them and use the existing infrastructure. We can offer cities a product that will allow people living in the blocks of flats to charge their new electric cars.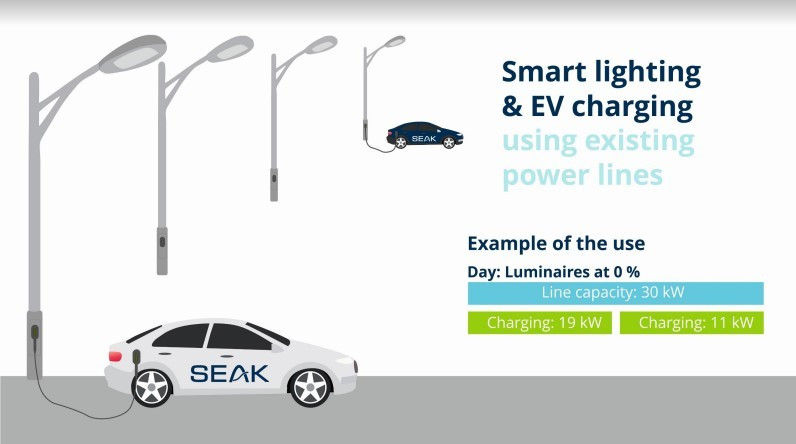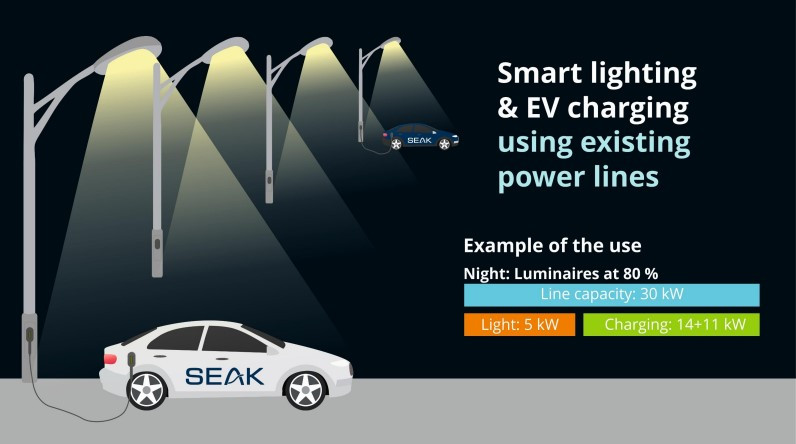 How do you perceive electromobility globally and in the future? Will the demand for electric cars rise or is the future in hydrogen?
I am very clear on this. For passenger transport, the future is battery-electric cars and not hydrogen. The reason is quite simple: hydrogen is not that efficient and, most importantly, it is much more expensive. The European Commission already understands this as it gradually postpones support for hydrogen cars. 
Hydrogen will make sense for freight, for trains, ships, and buses, but not for cars. If you buy a hydrogen Toyota Mirai, you pay more for it than for Tesla, its performance is comparable to a diesel Octavia, it will look like an Octavia and the operation of that car will be more expensive than an Octavia. You'd better buy that Tesla or VW iD4 or KIA EV6. 
As for the expansion of the charging network, it needs to be smart. The question "What if everybody buys electric cars tomorrow?" is purely hypothetical as that will certainly not happen. It's like the question "What if everyone turned on all the hairdryers in one second?". We would probably have a "blackout" too. It is very important for electric cars and for building the charging infrastructure that it is managed and that we can allocate the available capacity. These are all the smart features in our products that make us unique. 
What is it worth investing in development? What is the product to focus on?
When we talk about electromobility, it certainly makes sense to invest energy in developing more efficient batteries and other smart charging features. The Smart Grid area is important mainly due to the growing number of electric cars and at the same time the growing number of green energy sources, which lack the stability of performance. Therefore, it is very important to have a smartly managed network. This is a big challenge in my opinion. 
At the same time, I consider the development of the Internet of Things to be a very interesting area. We already have various sensors that communicate in different ways. And it's important to find a way to extract information from the quantum of data that all these sensors generate that is really useful. Just generate data and store it somewhere, that is not smart. Smart is to get some useful information. This is the difference between data and information.
How do you see us, SOS electronic, as a partner?
We have been working together for many years. Purchasing department told me that we cooperate practically from time immemorial. Which is definitely longer than 10 years (laughs). Working together for so long, of course, means that it works for us, the supplies are reliable and we can count on them. And we need it very much, especially in these uncertain times. 
Can you tell us something about the pilot project in the city of Sabinov in Slovakia?
When we started, not a single electric car was registered in this city. The question was "Who are we going to build it for?". However, the fact is that supply creates demand. When we built it, during the first month we had a maximum of 10 charges at the charging stations we have there in public lighting.
In December it was already 120. This means that people got used to it and really started using it. I also dare say that some people may have bought an electric car precisely because they have a place to charge it.
So far, the city provides electricity for charging for free, but even if it is (soon) charged, it's still cheaper than gasoline. 
---
Watch the recording of the Debatech 2022 conference interview with Mr Heliodor Macko from company SEAK. Topic: Renewable power sources for EV charging and e-mobility: opportunities and outlook. 
Are you interested in more information? Or do you have another question or request? Fill in the following form, we will be happy to help you.
Do not miss these articles
Do you like our articles? Do not miss any of them! You do not have to worry about anything, we will arrange delivery to you.