Two practical sets for working with screws at an excellent price, which you´ll certainly like. Branded 30-bit Wiha set with a high-quality holder with a strong magnet and a rich set of insulated screwdrivers with interchangeable bits in a practical package. The choice is yours.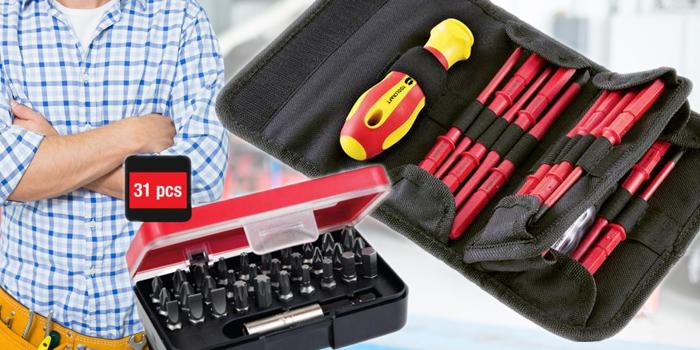 This time we will not write about complex products, displays, IoT, communication modules, etc.
This time we want to highlight two handy and especially practical sets for working with screws at an excellent price, which you would definitely miss in the workshop.
Bit set with a holder with an extra-strong magnet. Wiha bits are known for their durability and resistance.
Unlike similar "no-name" sets, this set offers the most common and most used bits in a Practical Plastic Box in top quality while maintaining an excellent price.
A really rich set of insulated screwdrivers, which also contains special SL/PZ1 and SL/PZ2 bits (so-called "PlusMinus"). Insulated, corresponding to DIN EN 60900 (VDE 0682-201).
Several extensions are in the "Slim" design, so the insulation has virtually the same diameter as the metal end of the bit and therefore can handle deep countersunk screws in various terminal blocks.
Toolcraft set WHS-017 contains:
1 pc insulated screwdriver handle
1pc AC tester (105 ~ 250V)
15 pcs of VDE insulated bits
SL: 3.0 x 100mm, 3.5 x 100mm, 4.0 x 100mm, 5.5 x 100mm, 6.5 x 100mm
TORX: T10 x 100mm, T15 x 100mm, T20 x 100mm, T25 x 100mm
PH: # 1 x 80mm, # 2 x 100mm
PZ: # 1 x 80mm, # 2 x 100mm
2 pcs of special bits SL/PZ1 80mm, SL/PZ2 100mm
You will find both sets, Wiha promo bit set and Toolcraft WHS-017, in our stock range available while stock lasts.

For more tips on the useful and practical screwdriver and bit sets, please contact us at sales@soselectronic.com

Do not miss these articles
Do you like our articles? Do not miss any of them! You do not have to worry about anything, we will arrange delivery to you.