Do you need a development kit for the i.MX8M Quad processor? Do you want to quickly integrate this solution into the final product? The development kit TechNexion PICO-PI-IMX8M-PRO will handle both.

PICO-IMX8MQ Module
The development kit contains a PICO-IMX8MQ13-R20-E16-9377 module. As with all TechNexion PICO modules, this module also has guaranteed 12-year availability.
The module is certified in European Union (CE, RED, and ETSI), United States (FCC), Japan (TELEC), Canada (IC) and Australia/New Zealand (RCM).
Processor
The module is based on NXP i.MX8M Quad application processor which contains four 64-bit, Armv8-A Cortex A53 cores clocked at 1.3GHz and one Cortex M4F core clocked at 266MHz. The Cortex-A53 cores can be powered off while the low power Cortex-M4 subsystem performs real-time system monitoring. The cortex-A53 core is the successor of Cortex-A7 but with a performance similar to Cortex-A9.
The module is based on NXP i.MX8M Quad application processor. It contains four 64-bit, Armv8-A Cortex A53 cores clocked at 1.3GHz and one Cortex M4F core clocked at 266MHz.
The processor is targeted for applications in video and audio streaming, voice control, voice assistants and human-machine interface (HMI) solutions. For this kind of application the processor offers:

● Two independent display interfaces, up to 4Kp60 resolution on the HDMI 2.0a output and 1080p60 resolution on the 4-lanes MIPI-DSI.
● Hardware acceleration for video playback 4Kp60 HEVC/H.265 main and main 10 decoder, 4Kp60 VP9 decoder, 4Kp30 AVC/H.264 decoder.
● Two 4-lane MIPI-CSI for cameras
● 20 audio in/out 32-bit channels with sampling frequency up to 384 KHz with DSD512 support.
RAM and Storage
The module contains 2GB LPDDR4 RAM and 16GB eMMC 5.1 chip which supports 200MHz DDR mode. Bus width is 8-bit, so theoretical transfer speed is 400MB/s which is far more than the currently available industrial microSD cards can provide. High-performance Apacer H1-M industrial microSD, SD 3.0 card, for example, supports SDR104 mode with clock frequency 208MHz. Bus width is 4-bit, so the theoretical transfer speed is 104MB/s.
Wi-Fi and Bluetooth
PICO-IMX8M module uses Qualcomm Atheros QCA9377-3 based TechNexion PIXI-9377 module. It provides Wi-Fi 802.11 a/b/g/n/ac and Bluetooth 4.1 (BR+EDR+BLE). The model works as a Wi-Fi client, ad hoc, access point, hot spot and in the concurrent mode (client and AP simultaneously). PIXI-9377 works in the ambient temperature range of -40…85°C.
Environment and Variants
Standard modules are available for 0…60°C ambient temperature range. Modules for -20…70°C and -40...85°C are available upon request, MOQ is in the order of hundreds of pieces. Different module variants are available, please see our e-shop.

Compatibility with PICO-IMX6, IMX7 Modules

Board to board connector pinout is not compatible with PICO-IMX6, IMX7 modules so it is not possible to use PICO-IMX8M with HOBBIT, NYMPH, DWARF or PICO-PI-GL (FL) carrier boards. At the present time, PICO-IMX8M is compatible only with the PICO-PI-8M carrier board.
Connectors contain:
● USB 2.0 Host , USB 2.0 OTG
● HDMI, HDMI I2C, MIPI DSI 4-lane, 2xMIPI CSI 4-lane
● RGMII, PCIe [x1]
● SDIO
● 2xI2S, 2xUART, SPI (MISO, MOSI, CLK, SS0, SS1), 4xPWM, 2x I2C, 10 GPIO

PICO-PI-8M Carrier Board
PICO-PI-8M small dimension and available interfaces allow using the board for development, but also for integration into the end product. Board allows set boot source for PICO-IMX8M module from eMMC on module, microSD on carrier board or through USB OTG (serial download mode).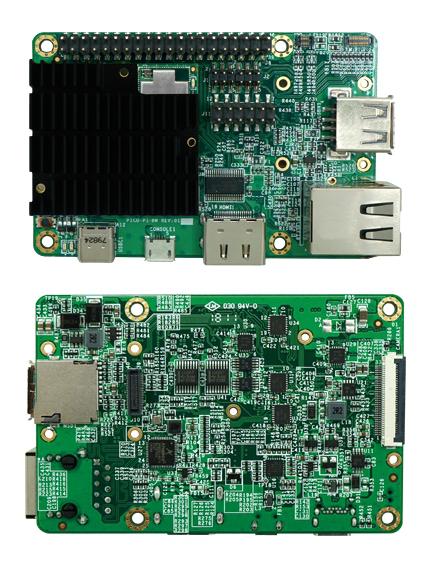 External Connectors
● USB 2.0 OTG, type C - serves also as 5V supply voltage input
● USB 2.0 Host, type A
● USB device, MicroUSB - debug console, uses UART1, and UART/USB converter Silabs CP2105
● GbE - AR8031 PHY
● HDMI 2.0a with ESD protection, CM2020-00TR, IEC61000-4-2 Level 4 at ±8kV contact discharge and ±15kV air discharge
● microSD slot, signals shared with CLIX
● Camera 1, 2 - 2xMIPI CSI 4-lane, compatible with CAM-OV5645 module
● MIPI-DSI, 4-lane
● Touch screen - I2C + interrupt input and reset output for touch screen controller
40-pin Extension Header
2xI2C
I2C2_SDA_3V3, I2C2_SCL_3V3 – shared with Camera 1 and USB C controller TUSB320LAIRWBR
II2C3_SDA_3V3, I2C3_SCL_3V3 - shared with CLIX and touch screen controller on display
2xUART
UART4_RX_3V3, UART4_TX_3V3) - shared with CLIX
UART1_RX_3V3 UART1_TX_3V3 - debug UART
PWM
PWM2_3V3, PWM3_3V3
PWM4_3V3 - shared with CLIX_INT1
SPI
ECSPI1_MOSI_3V3, ECSPI1_MISO_3V3, ECSPI1_SCLK_3V3, ECSPI1_SS0_3V3 - shared with CLIX
ECSPI1_SS1_3V3 shared with Camera 1 P1_PWDN
I2S
SAI2_TXFS, SAI2_TXD, SAI2_RXD, SAI2_TXC - shared with CLIX
GPIO
GPIO_P32_3V3, GPIO_P30_3V3, GPIO_P28_3V3
GPIO_P24_3V3, output from USB C controller TUSB320LAIRWBR, PD_INT_n
GPIO_P34_3V3, shared with MIPI1, DSI_RST
GPIO_P25_3V3, shared with CLIX_RESET
GPIO_P44_3V3, shared with Camera 2, CSI_nRST
GPIO_P26_3V3, shared with CLIX_INT0
CLIX Connector
The connector allows the use of TechNexion CLIX modules. At present, only the CLIX-9377 Wi-Fi/Bluetooth module is available.
Carrier board schematics are available upon request.

Software
You can find links to Android, Yocto project and Ubuntu demo binary images, Yocto Project, and Android source codes on TechNexion developer pages in the Software Development section.

If you need more information, or you are interested in other Technexion, products, please do not hesitate to contact us at technexion@soselectronic.com

Do not miss these articles
Do you like our articles? Do not miss any of them! You do not have to worry about anything, we will arrange delivery to you.