Even a simple, well-designed tool can help significantly – we´ll introduce to you some of them ...
This is an archive article published 11/20/2018. Some information may no longer be up to date and in line with the current state. Please contact us in case of interest.
Sometimes, only a little bit is necessary to make our work more happy – a good ergonomic chair, workbench in a suitable height, good lighting … and last but not least also a good screwdriver, magnifying lens, tweezers, or "something" what can help at extraction of a component from a PCB or at cleaning of a suspicious place with a possible shortcut.
If we´d start by the smallest one, then it could be the ZD-151 set – i.e. six various "surgery" tools serving for bending of THT components leads, extraction of components from a PCB, cleaning of a joint (brass brush) as well as interruption of unwanted connection on a PCB. Especially suitable for work with SMT components is the set of four stainless steel tweezers 816748. By the way, for a work with sensitive components it´s certainly worth to use antistatic wrist band (suitably earthed).

If you already find a place, which should be resoldered or a component should be extracted, then there will be certainly useful desoldering pumps ZD-192 or ZD-108 from an ESD plastic. For a thorough removing of all solder residues, especially at exchange of SMT components, it´s usually necessary to use a desoldering braid, for example Toolcraft – in various thicknesses (1.0-3.0mm) or a top-quality braid with a synthetic flux Soldabsorb.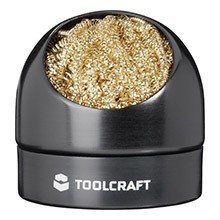 Soldering tool - that should be laid off into a reliable holder - for example
ZD-10
but we´re also able to supply you various original parts from Weller, Ersa and other.
At soldering and especially at a lead-free process, it often happens, that even a relatively new soldering tip gets covered by a thin oxide layer and the tip then "doesn´t catch" solder (poor wetting). If a mild cleaning on a soft-wetted sponge (
ZD-937
), doesn´t help, or often better - on a dry brass or stainless steel wool –
AT-A900
, then it might be good to use something more efficient – regenerator of tips
Stannol Tippy
or
Weller TIP ACTIVATOR
(T0051303199).
It´s known, that solder smoke and fumes are harmful and your health is surely worth much more than the ZD-153 fumes extractor.

In case of interest in any tools or soldering equipment, please contact us at info@soselectronic.com.
Do not miss these articles
Do you like our articles? Do not miss any of them! You do not have to worry about anything, we will arrange delivery to you.