The family of encapsulated 10W AC/DC TRACO converters is exceptional not only for their ultra-compact design and high efficiency. It is ideal for use in IT, communication and home electronics.
Traco Power offers a large range of fully encapsulated power modules with more than 200 standard models. They are available for PCB mount, chassis mount with screw terminal block or blade connector, or with flying leads for installation into standard flush boxes.
Power supplies are the most stressed parts of electronic devices. They must withstand wide temperature ranges, and because they also generate heat by converting input energy to output power, high efficiency is a crucial parameter for every such power supply.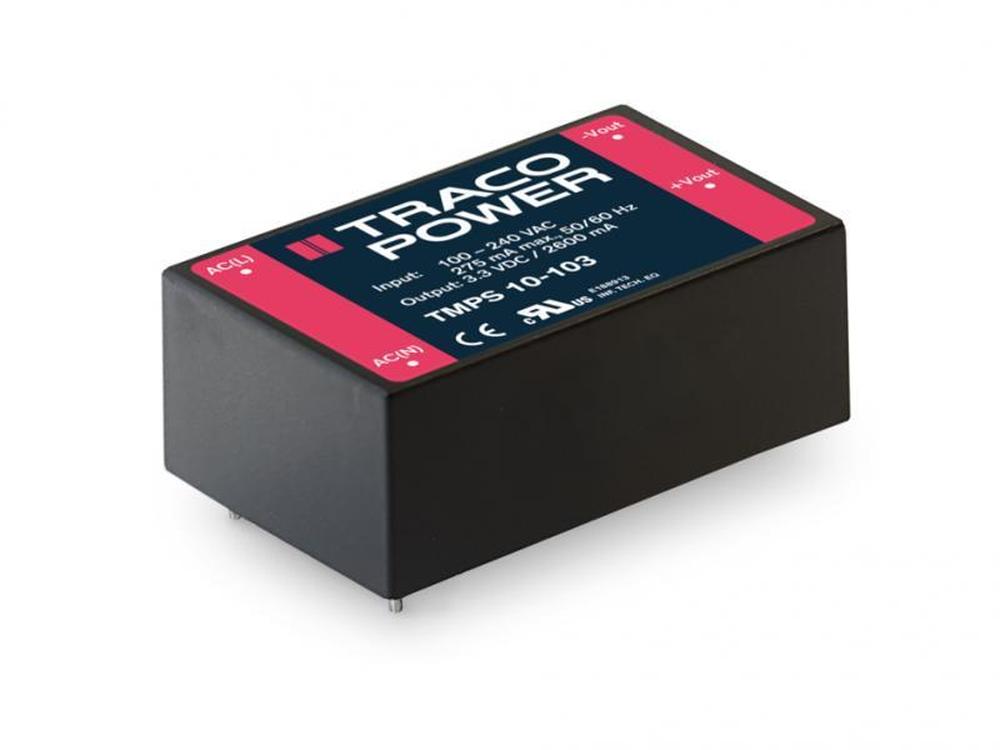 The 
TMPS 10
  series comprises
ultra compact AC/DC power supply modules
in a lightweight, fully encapsulated plastic casing for
PCB mount
.
Besides the latest safety approvals for industrial and IT solutions (IEC/EN/UL 62368-1), they are also certified as per IEC/EN 60335-1 for household appliances.
These 10 Watt modules are ideal for low power or segregated circuits when space is critical or for an efficient powering of a standby mode when compliance to the ErP directive is required.
The TMPS series offers 3 W and 5 W TMPS03, and TMPS05 power supplies are, along with the 10 W version of the TMPS10,  available in our assortment upon request.
If you are interested in other Traco Power products or you need more information, don't hesitate to get in touch with us at sales@soselectronic.com.

Main features:
Compact PCB Power module in1" x 1.5" package

Certified as per EN 60335-1 and UL 62368-1 for household and industrial appliance

Reinforced I/O isolation 4000 VAC

Operating temperature range –2 5 °C to + 70 °C

Allows 130% peak current up to 30 s

Ready to meet ErP directive, < 0.15 W no-load power consumption

7 versions with single output: 3, 5, 9, 12, 15, 24, 48 VDC

EMI meets EN 55032 class B and EN 55014-1

Protection class II prepared

3-year product warranty
Do not miss these articles
Do you like our articles? Do not miss any of them! You do not have to worry about anything, we will arrange delivery to you.