1A from the sugar cube sized module
With continuous improvement TRACO unveils the SMD version of enormously successful 1A DC/DC converter, the TSR1SM.
The TSR1SM series models of step-down switching regulators (non isolating – POL) have a high efficiency up to 96 % which allows full load operation up to +65°C ambient temperature without the need of any heat transmission layer. Excellent output voltage accuracy (±2%) and low standby current (~1 μA) are features that distinguish these switching regulators from linear regulators.
To make a SMD version of such a DC/DC converter is not a simple task, the package should withstand temperatures up to 245°C, used in a lead free soldering ovens. TRACO solved successfully this problem and the TSR1SM is qualified for lead free soldering processes as per J-STD-020D.01 (to find at: www.jedec.org - free registration required) with max. peak body temperature 245°C. Also low MSL level 1 allows PCB washing after soldering with baking at 100°C for 30min.

For applications which require lower supply currents up to 0,5Amps, there is a TSR0,5(SM)series of DC/DC converters with better price level available. If you need our help at selection of a suitable type, please don´t hesitate to contact us at sales@soselectronic.com.

Available P/Ns: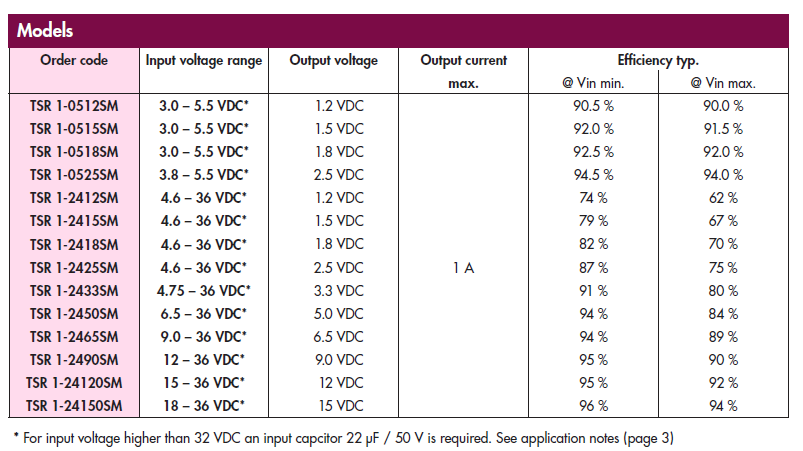 Main Features:
SMD-package
Up to 96 % efficiency
No thermal layer required
Built in filter capacitors
Operation temp. range –40°C to +85°C
Short circuit protection
Wide input operating range
Excellent line / load regulation
Low standby current
3-year product warranty