New 1,4" round display module from company 4D Systems with a round pixel placing is able to truly display various analog variables.
This is an archive article published 08/22/2014. Some information may no longer be up to date and in line with the current state. Please contact us in case of interest.
The evolution sometimes shows, that not everything "new" is automatically better than something "well-proven". One of examples was also a "boom" of digital panel meters, when it seemed for a while, that the life of analog panel meters is coming to an end. However it showed very soon, that an analog display has a huge advantage in a very fast legibility - i.e. already a brief look at a meter is enough to realize the position of a needle of a meter. Naturally, accuracy of reading of value from an analog meter is lower, than that of a digital (7-sgment) display. mainly at the beginning of a range, but this doesn´t matter in many cases and a certainty of a fast check, whether for example a given variable is in normal is often much more important.
Fortunately, classic electromechanical panel meter can be replaced by graphic displays thus obtaining a free hand at design of your own panel meter. At the same time, the combination of an analog and a digital meter can be created this way. Perhaps the best "replacement" for analog meters is a round display, which has a minimum space requirement in a target device. Novelty in this segment is the uLCD220RD (round) display module with a circle active surface (circle 220 px, 1,38"). Despite the fact, that it´s a small size display, it´s driven by the most powerful processor from 4D Systems - Diablo 16, which gives it a big versatility of usage, many interfaces and GPIO pins.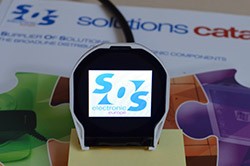 New version of a well known SW package for development of graphic applications -
4D Workshop IDE
from 4D Systems already supports this new module even in the Visi Genie environment, enabling a "drag&drop" development of application. In praxis a 220 px circle is able to display a considerable amount of information. On attached pictures we bring you a small demonstration of uLCD220RD module imaging.
Detailed information will provide you
uLCD220RD
and
Diablo16
datasheets.
In case of interest in any
4D Systems product
, please contact us at
info@soselectronic.com
.
Advantages/ Features:
round TFT LCD module with a powerful 16 bit graphic processor

1,38"/ circle with a 220px diameter

32kB user RAM, 16 GPIO pins, 4x analog IN

various configurable interfaces - PWM, I2C, SPI,...

connector for uSD/SDHC cards, FAT16 file system

Workshop4 IDE SW package for free
Do not miss these articles
Do you like our articles? Do not miss any of them! You do not have to worry about anything, we will arrange delivery to you.
Gain the uLCD220RD module for free!
Competition with the following question has been published here:
How many colors can be displayed by the uLCD220RD module?
The correct answer was: 65k, RGB, true to life
We have drawn the following winners:
Miroslav Slováček [CZ]
Congratulations to winners. We´ll inform them by e-mail.