If you need a reliable and fast storage for your data, then you shouldn´t overlook the Apacer CF6 series.
This is an archive article published 09/20/2013. Some information may no longer be up to date and in line with the current state. Please contact us in case of interest.
Among memory devices, CF (CompactFlash) cards are very popular for embedded devices in such fields as medical, military, gaming, automotive and POS applications to date due to their cost effectiveness, reliability and stability. Apacer's latest generation of CF Memory cards - Industrial CF6 cards, significantly boosts the transmission efficiency up to 115/80 MB/ second, realizing the speed of SATA interface when compared with its predecessors. The new series also considerably expands its capacity up to 128GB, making it the best choice for industrial computer and automatic storage.
Apacer's CF6 serie memory card is available in capacities of 16GB to 64GB in the reliable and highly competitive SLC chip and in capacities from 8GB to 128GB with low-cost MLC chip. Both the two series of products can run stably under industrial-grade wide-temp (-40°C - 85°C) environments, enabling the system to access data reliably even at scorching or extremely low temperatures, which considerably guarantees the service life of products. In addition, in order to enhance the accuracy of data, Apacer's Industrial CF6 cards also support the 72-bit ECC function, wear-leveling function and S.M.A.R.T. (Self-Monitoring, Analysis, and Reporting Technology), thereby substantially enhancing product reliability.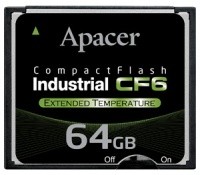 In respect of ensuring data security, Apacer's Industrial CF6-Premium Series come with an optional Write Protect function (Premium series). These CF memory cards are designed with a Lock Switch in a lower position so that customers can lock the CF memory cards prior to delivery of the system. Users can only read rather than write the data, thus helping prevent accidental deletion of data caused by careless operation and protect confidential data against vicious tampering. Apacer offers other series of Industrial Compact Flash Cards CF3 and CF5 series) as well tailored for a variety of customer applications and demands.

In case of interest in any Apacer Apacer products, please contact us at info@soselectronic.com.




Advantages/ Features:
CF memory card meeting CFA 6.0

PIO6, multiword DMA4, Ultra DMA6, PCMCIA UDMA 5

capacities 12, 32, 64 GB a 128 GB

read/ write up to 115/80 MB/ sec

advanced algorithms for equal blocks usage

built-in BCH ECC able to repair up to 72 bit/1kB

available as SLC and MLC

built-in voltage detector

power management

supply voltage 3,3 or 5V

standard 50 pin connector
Do not miss these articles
Do you like our articles? Do not miss any of them! You do not have to worry about anything, we will arrange delivery to you.