New display embedded modules BEGV64x from company Bolymin enable to add to your application a graphic output with and a control unit together with a communication interface – all integrated into a single module.
This is an archive article published 04/18/2012. Some information may no longer be up to date and in line with the current state. Please contact us in case of interest.
Based on the ATMega644P AVR processor, provide BEGV643 and BEGV641 a relatively high performance at a low power consumption. Used AVR processor provides a higher power than necessary to control the display and module peripherials, that´s why you have a considerable amount of CPU power/ system resources freely available according to your application demands.
Modules contain 1x RS232, one isolated RS485/422/232 port and a high speed SPI/I2C interface. In comparison to development from single components, when using these modules, it is eliminated the need for design of schematics and PCB of a control unit, display unit and a communication interface, power supply part as well as a necessary software. With a built-in in-system programmable 64kB Flash and 4kB SRAM, they provide a decent memory space even for relatively large applications. Another memory space is provided by external 2x 64 kB I2C CMOS EEPROM. Monochrome STN LCD displays with a white backlight provide a very good legibility. BEGV643 has the 320x240 px display resolution and BEGV641 has 240x128 px.
Modules are available in few versions of communication interfaces, detailed information will provide you BEGV643 / BEGV641 flyers and BEGV643 a BEGV641 user manuals. On the page 61/62 of user manuals you can also find links to download software utilities for display and communication interfaces. For a development support there is also available the BEGV643AMGI board with ISP and RS232 connectors.

In case of interest about any Bolymin product, please contact us at info@soselectronic.com.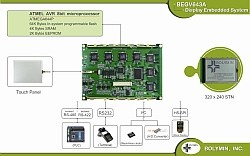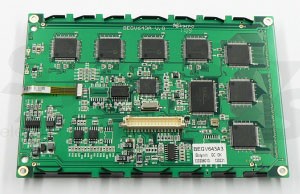 Advantages / Features:
universal display embedded modules

powerful 8-bit AVR ATMEGA644P processor

built-in in-system programmable 64 kB Flash/ 4 kB SRAM

built-in 128 kB EEPROM available through I2C

1x RS232 and 1x isolated RS485/422/232

high-speed SPI and I2C

operation already from 3,3V

monochrome STN LCD display 320x240/240x128 px

built-in 4 wire resistive touch panel

white LED backlight

free SW utilities (drivers)
Do not miss these articles
Do you like our articles? Do not miss any of them! You do not have to worry about anything, we will arrange delivery to you.