EEMB's 3.7V lithium-polymer batteries in an ultra-thin design, with high capacity, long life and low weight, are ideal for various mobile devices even in harsh industrial environments.
This is an archive article published 06/29/2021. Some information may no longer be up to date and in line with the current state. Please contact us in case of interest.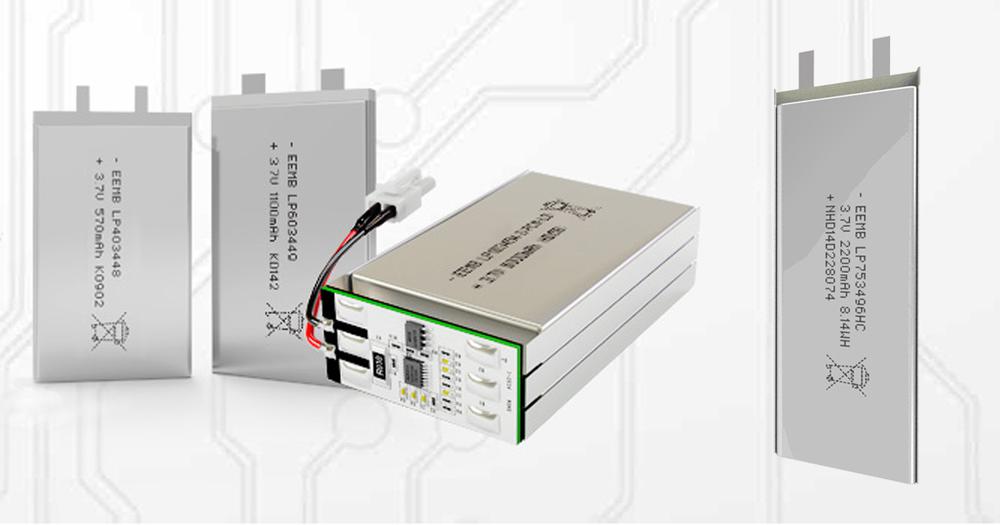 Smartphones, wireless Bluetooth devices, wearable electronic devices, PDA and digital cameras, security display, stands for phones and tablets, camera anti-theft display stands, electric bikes, GPS, monitoring units, tracking devices, notebooks, e-books, telematics, real-time location tracking systems, tracking devices, sleep-tracking devices, blood oxygen monitors, pulse monitors, Wi-Fi enabled smart home systems, power banks - all these devices rely on LiPol rechargeable batteries.
Single-cell, single-cell + PCM (Protection Circuit Module), single-cell + PCM + NTC (Negative Temperature Coefficient Thermistor) are available.
Key features of LiPol rechargeable batteries include:
High energy density and operating voltage of 3.7V 
High discharge rate for more powerful devices 
Lithium-ion polymer batteries are of outstanding discharge rate, sufficient to power a hard disk, video cameras and other such devices. 
Stable discharge under various environmental conditions and temperatures from –20 ℃ to +60 ℃ 
Excellent storage characteristics 
The self-discharge rate of Lithium-ion polymer battery is about 3% per month when stored at room temperature. 
Excellent cost performance and a long lifecycle 
Superior recharging properties ensure a service life of up to 800 cycles under normal usage conditions. 
Do not contain harmful substances, environmentally friendly
Lipol rechargeable batteries are very flexible in terms of different capacities and sizes. There are many standard sizes available, starting from 60mAh up to 8500mAh.

There are 3 subgroups of LiPol rechargeable batteries available:
Standard version - most applications
High discharge rate version - for demanding applications with high current requirements
Low-temperature version (-40°C) - Designed for cold climates and military applications
For a complete overview of available capacities and sizes, please check this pdf or manufacturer's website EEMB.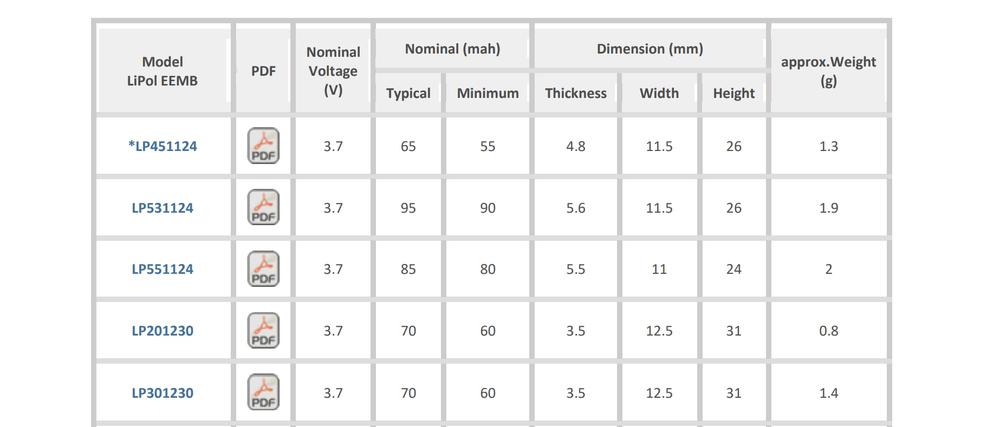 For price and delivery of selected Li-Pol EEMB rechargeable batteries, please visit our webshop or contact our sales department at sales@soselectronic.com.
Do not miss these articles
Do you like our articles? Do not miss any of them! You do not have to worry about anything, we will arrange delivery to you.