In a wide portfolio of development tools for displays from company Electronic Assembly can be found evaluation boards for development of applications with eDIP displays family, including a connectivity via all common industrial interfaces.
This is an archive article published 10/25/2012. Some information may no longer be up to date and in line with the current state. Please contact us in case of interest.
Everyone who already ever designed his own development board knows, that it takes a lot of time to design, construct and assemble such a board. That´s why a ready-made development board at an affordable price is always a big simplification. EA EVALeDIP320-TFT70 development kit is a beautiful example of such a set, as it provides an immediate access to a full display functionality and it comes rich-equipped. At the same time it meets a criterion of an acceptable price, because the difference in price of the development board and the display itself is approx. 50 Eur only.
EA EVALeDIP320-TFT70 enables to develop applications in an elegant way and to use all possibilities of 5.7" and 7" Electronic Assembly displays. The development kit contains an evaluation board (USB), 7" display with a touch panel, CD with SW and drivers, 5 small PCBs enabling a communication through industrial interfaces (RS232, RS485, I2C, SPI and RS232-CMOS level), USB cable and a line adapter. The development kit enables to also develop applications, which use input/output pins of the display - 8 push-buttons and 2 trimmers enable to control I/O pins and simulate analog signals, while 8 LEDs indicate logic levels at the corresponding outputs. Another LEDs indicate data traffic and a beeper/ loudspeaker serves as a touch feedback. An advantage of Electronic Assembly displays is, that black-anodized aluminium frames (bezels) are available for many types.

Further information will provide you the EA EVALeDIP320-TFT70 and EA eDIPTFT70-A datasheets. A 5.7" display will be available in the nearest period. In case of interest in Electronic Assembly products, please contact us at info@soselectronic.com.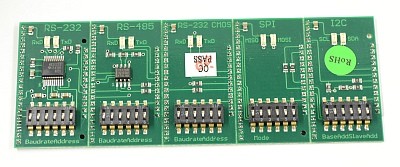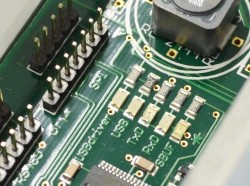 Advantages / Features:
rich-equipped development kit

supplied with a touch display

development SW and examples included

enables to use display IO pins

supports 5 interfaces (RS232,RS485, I2C, SPI and CMOS RS232) + USB

USB cable and a line adapter included
Do not miss these articles
Do you like our articles? Do not miss any of them! You do not have to worry about anything, we will arrange delivery to you.