The PSI9000 family of laboratory power supplies from Elektro-Automatik offers a reliable and user-friendly solution for every electronics engineer. Opt for high quality, safety and compact size.
This is an archive article published 02/11/2021. Some information may no longer be up to date and in line with the current state. Please contact us in case of interest.
Highlights:
Autoranging 
Color Touchscreen 
3-paths onboard Interface
Technical Specifications:
Nominal powers 320W, 640W, 1000W, 1500W 
Nominal voltages 40V, 80V, 200V, 750V 
Currents 0-60A
Available Features:
Color Touchscreen 
Wide input supply voltage range 90…264V with active PFC
High efficiency, up to 92% 
Interfaces: USB standard, Ethernet & Analog optional 
LabVIew-Vis software 
40V-Models according to SELV under EN 60950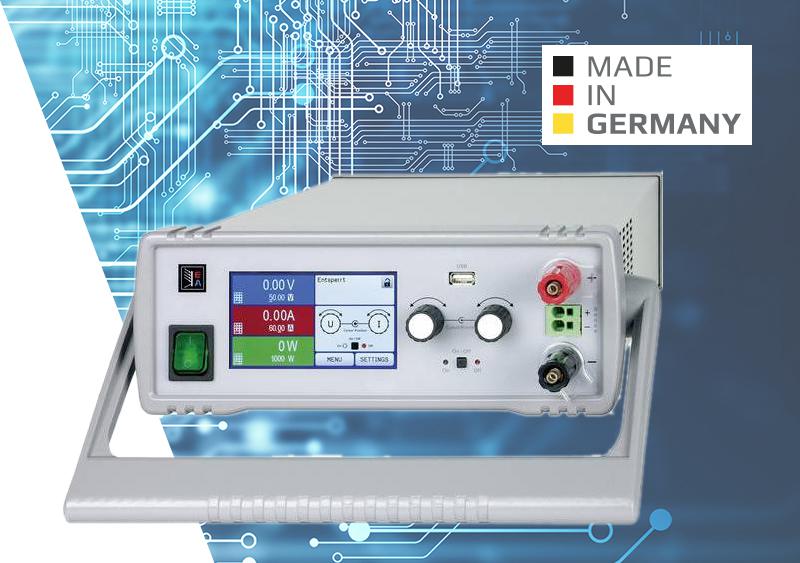 General description
The microprocessor-controlled laboratory power supplies of EA-PSI 9000 DT series offer a user-friendly, interactive handling concept, along with an extensive set of standard features, which can facilitate their operation. Configuration of output parameters, supervision features and other settings is smart and comfortable.
The implemented supervision features for all output parameters can reduce test equipment and make it almost unnecessary to install external supervision hardware and surface.
The clear control panel with two knobs, one pushbutton, two LEDs, and the touch panel with a colour TFT display for all important values and status enables the user to handle the device with a few fingers touches easily.
The device offers a set of interfaces (analogue and digital) on its rear panel for integration into semi-automatic and remotely controlled test and automation systems.
AC power supply input
The device uses an active Power Factor Correction (PFC), enabling worldwide usage of a mains input from 90VAC up to 264VAC. Models with 1,5kWwill derate their output power to 1kW below input voltages 150VAC.
Auto-ranging power stage
All models are equipped with a flexible auto-ranging output stage which provides a higher output voltage at lower output current, or a higher output current at lower output voltage, always limited with a maximum output power curve.
DC output
DC output voltages between 0...40V and 0...750V, output current between 0...4A and 0...60A and output power ratings between 320...1500W are available. Thus, current, voltage and power could be adjusted continuously between 0...100%, no matter if manually or remotely (analogue or digital). The output terminals are located at the front panel of the device.
The PSI 9000 DT power supply features an additional built-in output filter to achieve much lower ripple, i.e. low noise on the DC output voltage.

Desktop power supplies from Elektro-Automatik are available to order. We will check the price and delivery dates directly with the supplier.
For assistance, do not hesitate to contact us at sales@soselectronic.com.

Videos
Increase the flexibility and reduce the operating costs with EA PSI 9000 or PSI 10000 Series of programmable high-efficiency DC power supplies. 2 Minute PSI benefits summary video.
Do not miss these articles
Do you like our articles? Do not miss any of them! You do not have to worry about anything, we will arrange delivery to you.