Programmable DC, AC, current- and high-voltage power supplies, electronic loads, UPS, inverters and chargers of small and high power suitable for production and servicing - this is Elektro Automatik.
This is an archive article published 07/02/2014. Some information may no longer be up to date and in line with the current state. Please contact us in case of interest.
When we establish a production or testing workplace, we usually can´t omit a suitable power supply. Sometimes a "universal" like 2x30V/3A is sufficient, but often not. It´s well known fact for those of you, who produce devices various devices requiring higher current or higher voltage. Typical representatives are equipment for automotive industry, various drives, backup sources, solar devices etc. In these case tens to hundreds Amps and/or hundreds to thousands of Volts are no rarity.
Right for these purposes, German company Elektro Automatik produces devices and systems for power supply and simulation of conditions in a real operation. Adjustable DC and AC power supplies, current sources, electronic loads and other devices can serve for a thorough examination of your devices even in "border conditions" and they can help to discover eventual hidden faults which might occur later in a real operation. Many Elektro Automatik products are programmable and they´re also connectable to some of common buses like CANopen, Profibus, ProfiNet, DeviceNet, Modbus, Ethernet and also RS232. Also interesting are for example electronic loads with energy recovery, where the lost energy doesn´t transform to heat but returns back to mains line with efficiency of about 93%.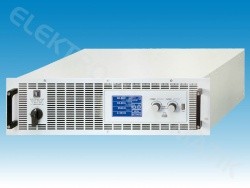 Advantages / Features:
high power DC and AC power supplies, UPS, chargers and other components for power supply

many devices are programmable and connectable to standard industrial buses

tens to hundreds of Amperes

up to thousands of Volts

German company with almost 40-year experience

own development and production capacities

possibility of custom modification
Do not miss these articles
Do you like our articles? Do not miss any of them! You do not have to worry about anything, we will arrange delivery to you.