Double PCB terminal blocks of the PDSV series from company Euroclamp enable to better utilize a space and to connect more leads on a small area.
This is an archive article published 06/26/2013. Some information may no longer be up to date and in line with the current state. Please contact us in case of interest.
If we need to connect several leads on one side of a PCB and we can´t or don´t want to use terminal blocks with a smaller pitch, then the PDSV double plug-in terminal blocks are the ideal solution. In principle, these are "pin headers", which can be mated with several types of SF and SV series connectors. It gives a variability of connection and a possibility to find at any circumstances the right type for a comfortable connection of conductors.
From several available versions we incorporated into our stable stock offer 2 vertical types - PDSV02-5,08-V (2-pole) and PDSV03-5,08-V (3-pole), both with a 5,08mm pitch (0,2"). PDSV series is modular, i.e. it is possible to stack them into a practically arbitrarily long configuration. These pin-headers mate with SF02-5,08-P/ SF03-5,08-P, SV02-5,08-F / SV03-5,08-F or SV02-5,08-P/ SV03-5,08-P terminal blocks. Body of the terminal block is made of PA (polyamide) UL94-V0 class, contact is from a nickel-plated copper alloy and a screw is form a galvanized steel. Detailed information will provide you datasheets at particular types.
In case of interest in any version of Euroclamp terminal blocks, please contact us at info@soselectronic.com.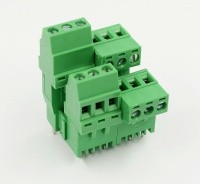 Advantages / Features:
universal plug-in terminal blocks for a PCB

possibility of connection into rows

250V/ 12A

5,08 mm pitch

operating temperature -40 to +130°C

also available in other colors
Do not miss these articles
Do you like our articles? Do not miss any of them! You do not have to worry about anything, we will arrange delivery to you.