It is known, that it is ideal to protect every controlled peripherial separately. Rail-mounted relay interface module Finder Master Plus 39.3x integrates function of a switching and protective element into one component.
This is an archive article published 06/28/2011. Some information may no longer be up to date and in line with the current state. Please contact us in case of interest.
In praxis, devices controlled by PLC (Programmable Logic Controller) are usually connected in groups, protected by some of the standard circuit breakers, while this common circuit breaker is rated to a value sufficient for overall current. Number of circuit breakers is reduced from economical reasons as well as increased complexity of a distribution box. To one circuit breaker are thus usually connected more devices controlled by an appropriate interface (EMR or SSR module). Possible overcurrent of a blocked AC valve or a motor can often stay unrecognized, as a circuit breaker is rated to a higher current. Moreover, if it will show after some time, that some of peripherials are necessary to be protected separatelly, a problem with a lack of space in a distribution box may occur.
These drawbacks are eliminated in a module Finder Master Plus, which can be equipped with a fuse module for a standard 20x5mm fuse. Fuse module is delivered separately and the internal electrical link allows relay interface module to be used also without a fuse module. Condition of the fuse is easily visible through a window. At width of a relay module only 6,2 mm, it is an interface with an individual protection, occupying only a minimum space on the rail. Interconnections in a distribution box can be further simplified and be more transparent thanks to a possibility to use interconnection jumper links. Finder Master Plus 39.3x are available in several versions, EMR or SSR, at the type 39.3x.3 also with a leakage current suppression.
Here you can download a Finder S39 datasheet.

For further information about prices and delivery terms please contact us at info@soselectronic.com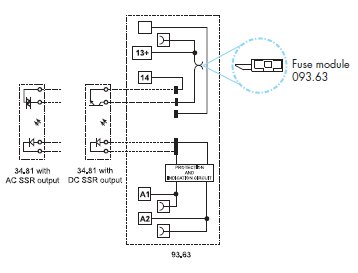 Advantages / Features:
switching and protective element integrated into one component

increased functional reliability and resistance against interference and overcurrents

additional fuse module doesn´t require next space on a DIN rail

easy visibility of the fuse condition through the window

output EMR 6A/250V AC, or SSR 2A AC/DC

a version with leakage current suppression available

width only 6.2 mm

jumper links available for easy connecting
Do not miss these articles
Do you like our articles? Do not miss any of them! You do not have to worry about anything, we will arrange delivery to you.