Pulse-controlled dimmers of lighting - Finder series 15 offer an elegant solution of lighting dimming controlled by a single switch.
This is an archive article published 08/20/2014. Some information may no longer be up to date and in line with the current state. Please contact us in case of interest.
Possibility to control level of lighting is beneficial at least from two reasons - saving of energy and naturally - we don´t need always a full intensity of lighting. At watching of media-projector presentation, TV, illumination of corridors, ... it´s often desirable only to reach only a minimum level of illumination (but not a total darkness). Light dimmers are for a long period used for these purposes, usually based on a phase regulation.
Solution from company Finder is exceptional in a fact, that it´s usable with almost every light source - for example incandescent bulbs, 230V halogen bulbs powered by a toroidal or EI transformer, dimmable CFL lamps, as well as LED bulbs. The essence of Finder 15 series dimmers versatility is in the possibility to choose a method of a phase regulation - on the beginning of the sinusoid, or on its end (leading/ trailing edge - the difference is illustrated on the attached picture). The first method is generally suitable for electronic transformers for halogen bulbs and LEDs, the second method is better for classic transformers for low voltage bulbs, for 230V CFL and for 230V LED lamps.
As it uses to be, control of such dimmers is maximally simple - by a short push of a control button (switch) the relay (output) will switch on or switch-off. By a longer holding the button presses, we can change the light intensity from minimum to maximum and vice versa. Finder 15 series dimmers also enable to work in a mode with a switched on memory (after a repeated switch on, the last used level of intensity will be set) or without a memory (after switching on, the maximum intensity will be set). An above standard benefit is a possibility to adjust a minimum light intensity by a potentiometer, what´s important mainly at electronic transformers to avoid a possible blinking at very low intensities and it´s also at classic incandescent bulbs, as their efficiency drops down rapidly at very low intensities (duty cycles).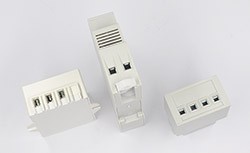 All 3 produced types are available directly from our stock:
15.51.8.230.0404 - assembly to installation boxes, linear dimming (also available types with dimming in 10 incremental steps)
15.81.8.230.0500 - DIN rail assembly, linear dimming
15.91.8.230.0000 - assembly to boxes or on a panel, linear dimming

Available are various versions, detailed information and a comprehensive table about possibilities of usage of particular types will give you the Finder 15 datasheet.
In case of interest, please contact us at info@soselectronic.com.
Advantages/ Features:
modern electronic dimmers

possibility to use with many light sources, including 230V LED

control by means of a single push-button (switch)

possibility to choose a method of a phase regulation (leading/ trailing edge)

possibility to adjust minimum light intensity

assembly to a 35mm DIN rail, panel or into a distribution box
Do not miss these articles
Do you like our articles? Do not miss any of them! You do not have to worry about anything, we will arrange delivery to you.