FTDI introduced on the market technology EVE - complete graphic solution suitable also for slower microcontrollers.
This is an archive article published 01/10/2014. Some information may no longer be up to date and in line with the current state. Please contact us in case of interest.
Some time ago, we offered you a possibility to win a development kit with this perspective technology. Because of your big interest, we´re adding to a contest one more "EVE" development kit. Paraphrase with the woman´s name is very near to a name of a new technology of display control - EVE - embedded video engine. Company FTDI as a well known producer of USB solutions with a slogan USB-made-easy, decided to bring this philosophy even to a field of graphic solutions. The first representative of a new family is the FT800 graphic chip, containing all necessary to create a powerful graphic output. Perhaps the biggest advantage of this solution is, that "EVE" puts only minimal requirements on the speed (and resources) of a Host processor, that´s it can cooperate even with smaller "low-end" microcontrollers (Atmega, PIC, 8051,....) with a very small power consumption.

The essence of small requirements for a Host processor resides in a fact, that FT800 contains al functional blocks necessary for graphic operations and control of the display itself like: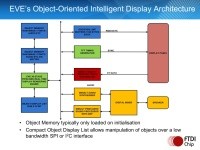 ● graphic controller with a clock (timing) generator
● touch panel controller
● frame buffer
● memory (registers, ROM, RAM)
● graphic processor and co-processor
● MCU interface (I2C, SPI) and other blocks.
Moreover FT800 also contains an audio module (synthesizer and a DSP sound processor with DAC) thus FT800 also provides a sound output (mono).
Besides a significant simplification of a graphic output is the idea of "EVE" also based on a fact, that it has to enable a cheap production of a graphic output for a target device. According to an example from FTDI (displayed on an attached picture), it´s possible to simply build a powerful "display" for the price of under 19 USD (at a volume production). At the same time this solution lowers requirement for a count of components (BOM) and also for a PCB space. Graphic capabilities of a new chip are really impressive as it features even such properties like anti-aliasing (subjectively sharper image even on a low resolution display), alpha blending (shading, 3D,...) and built-in complex pre-defined shapes and tools. All programming of FT800 is object-oriented, so for example drawing of a simple bargraph takes only 5 commands. To create a graphic user interface (GUI), the user initializes an object memory (up to do 256 kB) and then controls specified objects and their attributes. The result is the above-mentioned low load on a Host processor.
Only a brief description of all technical features would take a few pages, that´s why we rather recommend you to look at the attached video, FTDI EVE presentation, and to study FT800 datasheet. Further information will provide you documents FT800_Programmer_guide, AN_240_FT800_From_the_Ground_Up and AN_252_FT800_Audio_Primer. For a development support, there are also available various evaluation boards of the VM800 series. Guide price of the FT800 is 2,75 USD (100 000 pcs).

For a detailed information about prices, availability and further support, please contact us at info@soselectronic.com.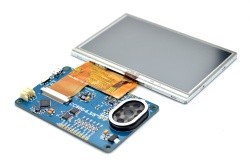 Videos
New object-oriented graphic platform for an easy-to-integrate display solutions
Advantages/ Features:
powerful graphic ship "3in1" with a 6-bit output (RGB-6,6,6)

including Audio and Touch controller (4-wire)

enables to create an affordable graphic output with minimal requirements for a Host processor

suitable also for slower microcontrollers like AtMega328, PIC, 8051,...

simply applicable, object-oriented architecture

built-in complex shapes and tools

WQVGA (480x272) and QVGA (320x240) output

SPI and I2C for a system Host

Anti-Aliasing, Alpha blending and masking algorithms

doesn´t need a costly RAM for a frame buffer

colour dither - 8-bit computing for a better appearance of half-tones

programmable timing for various displays

mono audio out PWM, 64-voice synthesizer

audio wave playback, 8-bit linear PCM

1,8-3,3V, 35 mA Active, 25uA Sleep

-40 to +85°C

48 pin QFN
Do not miss these articles
Do you like our articles? Do not miss any of them! You do not have to worry about anything, we will arrange delivery to you.
Gain the VM800 evaluation board for free!
Competition with the following question has been published here:
Which are the basic interfaces of FT800 family for communication with a Host procesor?
The correct answer was: SPI,I2C
We have drawn the following winners:
Vladimir Hrivnak [SK]
Congratulations to winners. We´ll inform them by e-mail.