Vinculum is the brand name for the new family of USB Host Controller ICs devices from FTDI.
The Vinculum family of devices allow the implementation of USB host controller functionality within products, thus saving development time and costs by using FTDI's tried and tested firmware programmed into internal, easily upgradeable Flash memory.
This is an archive article published 06/03/2009. Some information may no longer be up to date and in line with the current state. Please contact us in case of interest.
The VNC1L is the first of FTDI's Vinculum family of Embedded USB host controller integrated circuit devices. Vinculum can also encapsulate certain USB device classes handling the USB Host Interface and data transfer functions using the in-built MCU and embedded Flash memory. When interfacing to mass storage devices, such as USB Flash drives, Vinculum transparently handles the FAT File Structure using a simple to implement command set.
Vinculum provides a cost effective solution for introducing USB host capability into products that previously did not have the hardware resources to do so.
The VNC1L has a Combined Interface which interfaces a controlling application with the Command Monitor. The combined interfaces are UART, Parallel FIFO and SPI.



LQFP-48 Package Parameters
VNC1L is supplied in a RoHS Compliant 48 pin LQFP package as standard. The LQFP-48 package is lead (Pb) free and uses a 'green' compound. This package has a 7.00mm x 7.00mm body (9.00 mm x 9.00 mm including pins). The pins are on a 0.50 mm pitch.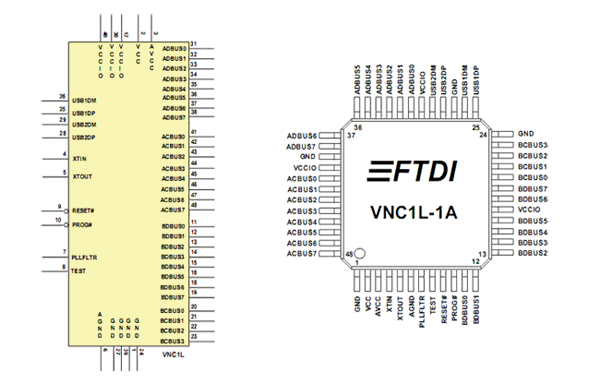 VNC1L Key features
USB host / slave, Low speed / Full speed controller
8 / 32 bit V-MCU Core
dual DMA controllers for hardware acceleration
64kB Flash + 4kB RAM
interface: UART, SPI, FIFO, PS/2
28 I/O pins
and more...
VNC1L Block diagram
Firmware support and VNC1L Programming
There are currently 6 standard firmware versions available for VNC1L: VDAP Firmware, VDPS, VDFC, VMSC1, VCDC and VDIF Firmware.
The VNC1L is supplied un-programmed. It can be programmed before assembly or it can be configured "in the field" with configuration option firmware available from the Vinculum website at http://www.ftdichip.com.


Do not miss these articles
Do you like our articles? Do not miss any of them! You do not have to worry about anything, we will arrange delivery to you.