The essence of a proper and long-term operation of every device, is to use reliable components. From this point of view, relays Fujitsu are a synonym of reliability and a long lifetime.
This is an archive article published 09/07/2012. Some information may no longer be up to date and in line with the current state. Please contact us in case of interest.
To use a classic electromagnetic relay or rather an SSR - that´s the question, which apparently can´t be answered expressly, but pros and cons of both technologies are well known and information are easily available. We described to you features of solid-state relays for example in the article "Semiconductor better than a conductor?". On the other hand, classic electromagnetic relays are still perspective, their features are continuously being improved and modern relays surprise by relatively small dimensions. To advantages of electromagnetic relays belong a high resistance to various power peaks, overvoltages and other disturbances. Price is also the factor saying in favor of electromagnetic relays.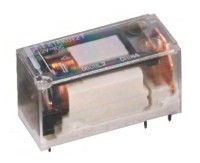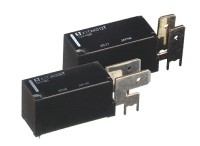 Fujitsu FTR-K1 relays are power relays with a low profile, reflecting long-term experience of company Fujitsu. FTR-K1 replaced the over 20 years used VSB series relay, with which it is pin-compatible. High switching (16A) and inrush (80A) current, isolation strength up to 10kV, coil wound with a class F wire (155°C), cadmium-free contacts and RTII sealing make FTR-K1 literally a universal relay. FTR-K1 series is available in various versions - for example with up to 120A inrush current (K1-KS), with a transparent cover (K1-RG) and also with tab terminals for a simple load connection in the application (K1T).

As a standard stock in our offer can be found types FTR-K1CK005W, FTR-K1CK012W and FTR-K1CK024W with 5, 12 and 24V coils and one change-over contact (1CO, SPDT). We´re also able to supply other versions upon a request. Detailed information will provide you the Fujitsu FTR-K1 datasheet.

In case of interest in any Fujitsu relay, please contact us at info@soselectronic.com.
Advantages / Features:
16A power relay SPDT(1CO)

low profile (15,7mm)

high isolation (coil/ contacts) - 10mm, 5kV (10kV)

low power coil - 400 mW

F class coil wire (155°C)

cadmium-free contacts

RTII sealing (flux resistant)

also available other versions
Do not miss these articles
Do you like our articles? Do not miss any of them! You do not have to worry about anything, we will arrange delivery to you.