Do you know, that a relay can have a zero power consumption in a relaxed state? Latching (bistable) relays have these feature. In the era, when it is a general effort to decrease power requirements of devices, is the usage of these relays even more actual.
This is an archive article published 09/06/2011. Some information may no longer be up to date and in line with the current state. Please contact us in case of interest.
Electromagnetic relay, as a switching element, is one of the oldest electronic components. Inspite of a strong rival in the form of SSR (solid state relay), has an electromagnetic relay some convenient properties, for which is its usage more convenient in many cases. Let´s mention for example a high dielectric strength coil/contacts as well as between contacts, minimal power losses on contatcs and a linear transmision of small signals without a distortion. Inspite of, that the coil of the relay is always optimalized for a minimal power consumption, still it is not neglible, especially at relay arrays or at battery powered devices. a solution is to use a polarized latching (bistable) relay. As already a name says, a latching relay is designed so, that it has two relaxed states, i.e. it needs power supply only for a change of state, in a relaxed state (on or off) it has a zero power consumption.
Usually the coil of a latching relay is constructed as double, one serves for setting, secound one for resetting. Controlling voltage is the same, only for the change of state it is necessary to bring an impulse into the appropriate coil. There also exist latching relays with only one coil, where a state change can be reached by impulses of reversed polarity. Latching relay is suitable everewhere, where a usual relay, except circuits, where it is necessary to ensure switched off contacts after power disconnection. Latching relay is known already for many decades, but a bigger usage of these relays was probably prevented a higher price of controlling circuit, because a double circuit is necessary. This disadvantage is in presence practically eliminated thanks to a significantly lower price of usual semiconductors in comparison to a price of relay, and a much bigger advantage appears to be a zero power consumption a relaxed state.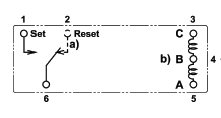 From our offer of latching relays, we would like to introduce you a relay Fujitsu JSL. It is a power relay with one change-over contact. Maximal carrying current 10A, continuous current 8A and a high dielectric strength of 5000V AC (coil/contacts) enable its usage in many power applications. Gold plated, silver based contacts ensure a low contacts resistance and a long lifetime. Relay JSL is Cadmium free, sealed, wash tight. We offer to you 5, 12 and a 24V version - JSL-D5N-K, JSL-D12N-K, JSL-D24N-K.

Further detailed information are contained in the datasheet JSL. General application notes for usage of relays you can find in the Engineering reference. On the Fujitsu website, you can also find replacements for the relays from other companies.

In case of interest about any Fujitsu relay, please contact us at info@soselectronic.com.
Advantages / Features:
polarized latcing relay – zero power consumption in a relaxed state

1 change-over contact, THT technology for PCB mounting

gold plated contacts from AgSnO2

carrying/ continuous current 10/8A

specified temperature -40 to +70°C

versions with 3V, 5V, 6V, 9V, 12V and 24V coil

dimensions 29x10x12,5 mm (L x W x H)

sealed type, wash tight
Do not miss these articles
Do you like our articles? Do not miss any of them! You do not have to worry about anything, we will arrange delivery to you.