0.01mA, 10mV but even 2A are no problem for the AxW-K series Fujitsu relay. That´s why they´re a reliable component for a linear-undistorted transfer of diverse signals.
This is an archive article published 11/02/2012. Some information may no longer be up to date and in line with the current state. Please contact us in case of interest.
AxW-K relay series are well-proven 2-pole relays (DPDT) reliable switching even very small signals, already from 0,01mA/10mV DC, but they won´t be scared of 1A/30VDC (0,5A/125VAC). Reliable switching is ensured by bifurcated silver-based contacts plated by gold. As, circuits for signal processing usually consist of SMD components, neither a relay intended for such applications shoudn´t be too high. With the height of only 5 mm, AxW-K relay series meet this requirement very well and a standard DIL pitch makes their usage and PCB design easier at the same time.
In the AxW-K series can be found several types - with 1.5V - 48V coils, and also bistable (latching) types (with 1 or 2 coils). Types A3W,A5W,AL-D5W-K,A12W and A24W are kept in stock, other types we´re able to provide you upon order. Further features of the AxW-K series relays result from their construction as a classic electromagnetic relay - high isolation, galvanic isolation from a control circuit, ability to transfer small signals without distortion, resistance to various surges and other. Besides telecommunication circuits, AxW-K series relays are ideal for switching of signals from a wide range of industrial detectors and sensors, audio devices and other.

Detailed information will provide you the Fujitsu AxW-K datasheet. In case of interest in any Fujitsu relay, please contact us at info@soselectronic.com.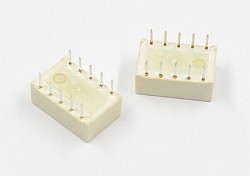 ADvantages / Features:
2A signal relay DPDT (2CO)

able to switch even very small signals, from 0,01mA/10mV

very low profile - 5 mm

low coil consumption cievky - 140 mW (typ.)

bifurcated contacts for a higher reliability

silver-based gold-plated contacts

latching versions also available

self-extinguishing package material (UL94V-0)

wide operating range (voltage and temperature)
Do not miss these articles
Do you like our articles? Do not miss any of them! You do not have to worry about anything, we will arrange delivery to you.