Why is it worth to use a push-button with a declared resistance to dust and water even in a common environment?
This is an archive article published 01/30/2014. Some information may no longer be up to date and in line with the current state. Please contact us in case of interest.
In case, that a device is used outdoor, it is usually a necessity. But how is it in the case, that a device will be operated indoor in a relatively "good" environment? Here it depends mainly on a designer´s choice, whether he´ll use a component with a higher protection class or not. Despite the fact, that to use a push button with a higher IP class usually means somewhat higher price, but it provides one big advantage - reliability.
We know, that even in an indoor environment, especially in a production halls or stocks it´s very often a higher dustiness and a remarkably fluctuating humidity. These are naturally conditions, which don´t flourish to contacts, thus a button or a switch with a higher protection class can mean a significant increasing of reliability.
In the nowadays "microprocessor" age, it´s very often, that the control buttons switch only a minimal current. As a result, this small current isn´t able to act as self-cleaning for contacts and the switches fail prematurely. Even in these cases, it´s beneficial, when a push button is more resistant to dust and water.
Marquardt 5000.0501 is a literally universal push button, because it features an IP54 protection class from both sides. It´s able to switch 4(2)A/250V AC and a plus is also a high mechanical lifetime - up to 200.000 cycles. Relatively higher driving force and a sufficiently long travel (4mm) acts also as a protection against accidental operation.
In case of interest in any Marquardt switch, please contact us at info@soselectronic.com.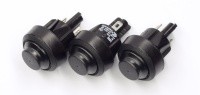 Features:
single-pole push button (SPNO, momentary)

IP54 protection class

IEC 4 (2)A/ 250V AC/ 20E4

contacts distance > 3mm

fiber-glass reinforced PA, UL94-V2 flammability

4.0 mm travel

silver plated terminals 2.8x0.8 mm
Do not miss these articles
Do you like our articles? Do not miss any of them! You do not have to worry about anything, we will arrange delivery to you.