Very simple mounting on a panel, compact dimensions or convenient machine assembly on a PCB. These are some of the advantages of 5 piezo transducers and buzzers by DB Products. Check the extended product offer for acoustic signalling in industrial applications. (reading for 2 minutes)

Nowadays, a large part of industrial equipment has some kind of acoustic output, or at least acoustic feedback. For example, confirmation of pressing a button or other choice on the control panel or display with a touch panel (HMI) or acoustic signalling of some, for example, malfunctioning condition requiring operator intervention. 
Transducers and buzzers by DB Products 
In all the mentioned cases, various small transducers and buzzers are typically used - piezoelectric, electromechanical, with or without a DC driver, i.e. converters known as "transducers", and many others. For all such applications, we have a solution in the form of acoustic components from the well-known manufacturer, DB Products Limited.  
"The main strengths of DB Products include a very wide and comprehensive range of high-quality acoustic components at affordable prices, as well as professional technical advice and services. As part of its services, the manufacturer even offers the design and production of new solutions exactly according to customer requirements," says Martin Brestovič, SOS electronic's product specialist.  
From the wide range of DB Products, we have selected the most requested types for our stock offer so that they are immediately available for your projects.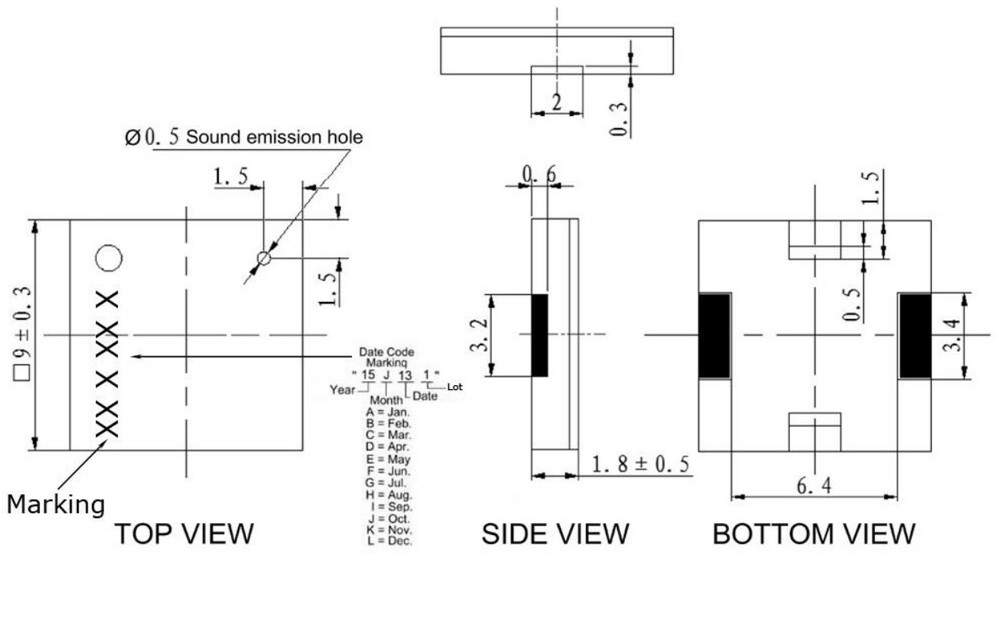 DC piezo buzzers on panel
The piezo buzzer with a transducer named 21S3120NLFEA-006 is interesting primarily because of its extremely simple mounting on the panel using a nut from the back.

Its diameter of 32 mm is the industry standard for similar buzzers with this type of mounting, and for this size it achieves a very good volume of 85 dB/3 kHz/12 V. Here we want to emphasize that the sound intensity measurement took place at 100 cm and not 10-20 cm, which is often the case with miniature types. So, in reality, this piezo buzzer is significantly louder than other products with seemingly the same parameters, if the sound power was measured at a distance of 10 cm.

This piezo buzzer is an ideal solution for industrial applications thanks to a wide supply voltage range from 5 to 28 VDC and a working temperature range from -30 to +85°C. In addition, the connection using faston-type knife connectors and the size of 4.8 x 0.6 mm simplify further assembly in the application.
AC piezo transducers without driver and with wire leads
Simple, universally applicable piezo transducer without driver and with wire outputs 185PZ10320LF-LA has small dimensions with a diameter of only D: 10 mm and an input AC voltage of up to 30 V (p-p). The wire terminals contribute to the universality of the use of this type of piezo transducer.
AC piezo transducers without driver and in SMD version 
"The third group of new acoustic components in our warehouse includes 3 small SMD piezo transducers. Thanks to the SMD design, they are very space-saving and, of course, they support machine mounting, also known as 'SMT' or 'pick and place' assembly, but also soldering by reflowing in an oven, the so-called reflow process," continues Martin Brestovič. 
The universally applicable SMD piezo transducer 186PZ14330LFRMP has dimensions of 14 x 14 x 11 mm, a volume of 80 dB/5 V/3.3 kHz and an input AC voltage of max. 30 Vpp.
SMD piezo transducer 189PZ12400LFMP-003 without driver is interesting for its parameters. It has only 12 x 12 x 3 mm, volume of 75 dB/3 V/4 kHz and max. 25 Vpp. 
Tip: The hole through which the sound comes out is located on the side. It is a very convenient solution for some specific applications when you need to place the piezo component on the edge of the PCB for example.
The last of the novelties is the miniature piezo transducer without driver 246PZ09400LFMP.

It is a very small SMD piezo transducer with dimensions of 9 x 9 x 1.8 mm and parameters of 65 dB/3 V/4 kHz, max. 25 Vpp. The ideal solution for space-critical applications.
From now on, you can find all the mentioned piezo transducers and piezo buzzers by DB Products in our permanent stock offer with immediate availability and attractive prices.  
DB Products' portfolio includes many other audio components, which we are happy to get for you on order. The following catalogue will give you an overview of the entire product range by DB Products. 
---
Are you interested in more information about DB Products or technical support when choosing a product? Or do you have another question or request? Please fill out the following form, we will be happy to help you.
Do not miss these articles
Do you like our articles? Do not miss any of them! You do not have to worry about anything, we will arrange delivery to you.