Lot of us, who are using microprocessors in daily praxis, could have noticed, that more than 2 years ago Atmel has brought to the market an innovated AVR microprocessor line called XMEGA.
This is an archive article published 07/19/2011. Some information may no longer be up to date and in line with the current state. Please contact us in case of interest.
XMEGA is 8 bit microcontroller offering wide innovations. We can mention some of them as higher performance 32MIPS operation, DMA channel, Event System, more USARTs,I2Cs,SPIs, Timers and Counters, DAC channel, crypto engine and more.
Majority of us is usually facing a question, how to familiarize with a new microprocessor line as fast as possible, easy and of course cheap. We offer to you development kits with ATxMega32A4 chips, which can open the door for you into a family of XMEGA processors and can make a development process easier and simpler. Kits XMEGA32A4 are available in 3 versions: base, visual and connect:
Variant "BASE":
● procesor Xmega32A4
● 2x LED, 3x button
● outputted IO ports PA0..7, PB0..3, PC0..7
● external crystal
● powered from 5VDC, 3.3VDC output max. 50mA
● USB COM converter FT232
● programming with Boot Loader through a virtual COM port, no special programmer is needed
● possible direct programming through ISP-PDI processor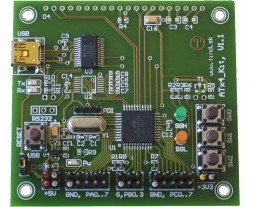 Variant "VISUAL" - navyše oproti BASE:
● backlighted LCD display 16x2 with backlight control
Variant "CONNECT" - navyše oproti VISUAL:
● RS232 >> application USART for serial connection of other devices (connected to the different USART channel as FT232)


Remember, for applications development you do not need any other HW programmers. All you need is USB port and boot loader application for loading application, which is a part of the kit. You can also download a
ATx4
user manual.
We hope that, work with our offered kits will be convenient and effective.
Do not miss these articles
Do you like our articles? Do not miss any of them! You do not have to worry about anything, we will arrange delivery to you.