Do you need to control electromechanic displays in your application? In that case you don´t have to develop your own segment control units but use the new product of a Slovak producer.
This is an archive article published 12/20/2011. Some information may no longer be up to date and in line with the current state. Please contact us in case of interest.
Usage of electromechanic displays has many advantages compared to electronic ones. Unbeatable readability even in extreme conditions like direct sunlight, size of segments and a zero power consumption at rest.
Discon – H7 is a control unit for all electromechanical displays BODET. It solves a complete solution of particular segments by multiplexing, with a refresh at a change of a displayed value. There are various input interfaces between a user and a control unit: RS 232, RS485/422, LAN. A user can through a classic Hyperterminal write a value to be displayed, set various modes and there is also available a custom software according to a concrete application. It is possible to communicate with the unit via a LAN network and to use all advantages of this kind of communication. It is also possible to create a wireless WiFi connection, by means of standard WiFi devices, and to control price labels on a pole of a fuel station from the comfort of the office.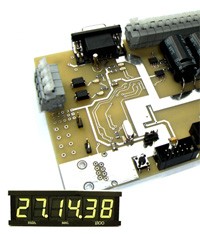 The unit further contains a real-time circuit, as well as a Pt 1000 temperature sensor, thus able to display an actual time, date and temperature. For the usage in a function of a town clock, only a suitable cover/ enclosure is necessary.
Also available are two digital inputs, each able to work as a counter (number of impulses), or as a frequency meter. Here it is offered the usage as a product counter in production, speed of a production line movement, information tables at sports halls and sports fields etc.
Do not miss these articles
Do you like our articles? Do not miss any of them! You do not have to worry about anything, we will arrange delivery to you.