New version of a favorite RFID module ID12LA will enable you to implement RFID into your device even more easily thanks to a wide range of supply voltage.
This is an archive article published 12/29/2014. Some information may no longer be up to date and in line with the current state. Please contact us in case of interest.
Literally "globally known" with an integrated antenna - ID12 and its familiar like for example ID2 or ID20 have earned a big popularity thanks to a flawless usage and reliability. Perhaps the only disadvantage of this module was narrow range of operating supply voltage, what in praxis enabled only usage of 5V DC. New version - ID12LA solves also this small drawback and the new module works in a range of 2.8-5VDC. This also enable their usage even with a 3.3V logic and for example in battery operated devices (3-4x NiMH, or 1x Lithium cell, ...) without necessity of DC converters or a precise voltage regulation.
The module ID12LA (range approx. 12cm), as well as ID20LA (range approx.16cm) are in our stable stock offer, similarly also the MIFARE® version (13,56 MHz) - ID20MFIA. In case, that you prefer the maximum range, it´s possible to use module ID2 supplied with an external antenna (range up to 30 cm).
Detailed information will provide you datasheets at particular types below the article.
In case of interest, please contact us at info@soselectronic.com.
MIFARE® and MIFARE Classic® are registered trademarks of NXP B.V.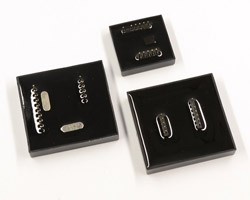 Advantages/ Features:
ready-made RFID solution

new versions with an enhanced supply voltage range (2.8-5V)

compact size

very simple usage

several versions available (125kHz, 13,56 MHz, 12-30cm range)
Gain the the ID12LA module for free!
Competition with the following question has been published here:
What´s the function of the pin 6 of the ID12LA module?
The correct answer was: Tag in range
We have drawn the following winners:
Ondřej Grycz [CZ]
Juraj Kováčik [SK]
Martin Hrubý [SK]
Congratulations to winners. We´ll inform them by e-mail.