USB OTG (On-The-Go) cable enables for example a simple connection of USB slave devices with a smartphone.
This is an archive article published 04/03/2013. Some information may no longer be up to date and in line with the current state. Please contact us in case of interest.
As we know, USB communications operates in such a way, that a Master (Host) device (usually a PC) controls all communication on the bus and Slave devices are only able to require attention. Slave devices are all common peripherials like printers, scanners, mouses, cameras, USB drives, mobile phones etc.
However, naturally there are situations, when we´d like to interconnect also devices, which usually operate in a Slave mode, for example a printer with a USB key, mobile phone with a USB key or with a keyboard etc. In this case we want one of the devices to act as a Master.
USB OTG solves this problem and enables to use a given USB device in a Master and in a Slave mode as well. A mode in which a device will operate is defined by wiring of an interconnecting cable itself (pin ID grounded or left floating). USB OTG is supported by many nowadays mobile devices, which can be switched to a Master mode by using of such a cable. That´s why, when you´ll use the USB-OTG cable, you can connect a USB drive, mouse, keyboard and other USB slave devices directly to your smartphone.

In case of interest, please contact us at info@soselectronic.com.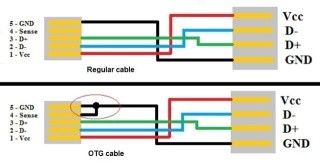 Videos
Advantages / Features:
cable enabling to switch a USB OTG device to a Master (Host) mode

suitable for the most of modern smartphones and tablets

enables to connect for example a USB drive directly to a smartphone
Do not miss these articles
Do you like our articles? Do not miss any of them! You do not have to worry about anything, we will arrange delivery to you.